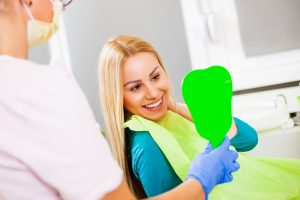 Changes in technology help us provide important oral health services that take less time, and keep patients more comfortable! At our Bellaire, TX dentist's office, we rely on digital technology to help us plan and prepare for work to restore patients' smiles. With this new technology, we can provide same-day dental crowns. We can even provide digital dentures and other prosthetic solutions. Imaging technology also enables us to more carefully evaluate patients so that we can provide important general dental care. Digital dentistry provides exciting benefits, and it helps us pursue our overall commitment of providing quality care while focusing on making patients feel comfortable and properly cared for at every visit.
Technology Helps Us Evaluate Patients And Design Dental Restorations
Digital dentistry has benefits for evaluating patients, and for planning important procedures. Thorough examinations have clear importance when it comes to checking patients for possible oral health troubles. With intraoral cameras and digital x-ray technology, we can provide detailed reviews, which can lead to early detection and treatment for problems before complications occur. We also rely on digital technology to plan procedures. In fact, we can make your care more convenient by performing important planning tasks before you arrive for a procedure.
Using Digital X-Rays To Examine Patients
Digital x-rays can produce significantly less radiation than traditional radiography equipment while producing images in less time. These reviews let us look closely at your oral structures, which helps us identify possible problems and prepare for upcoming care. When necessary, we can also use conebeam CT scanning to create three-dimensional models of your teeth and oral structures, which leads to more accurate images we can rely on to plan and provide services.
Digital Technology And Dental Restorations
Digital technology makes several improvements in restorative dental work and prosthetic dental work possible. This beneficial technology allows us to provide same-day dental crowns. The permanent, durable, and lifelike restorations provide long-term protection for teeth damaged by advanced cavities or physical trauma. Digital dentistry also enables us to provide dentures that feel more secure. By capturing detailed digital images, we can work out a successful dental implant placement plan before your procedure.
Learn More About Digital Dental Technology Used At Contemporary Dental And Orthodontics
Digital dentistry makes it possible for us to shorten treatment times, even for more involved oral health procedures. Our imaging technology also helps us thoroughly evaluate patients so that we can identify trouble and properly address it. If you have questions about digital dentistry and how it affects you, or if you have a procedure you are interested in, let us know! To find out more about our practice and services, please contact Contemporary Dental And Orthodontics in Bellaire, TX at 713-668-9119.