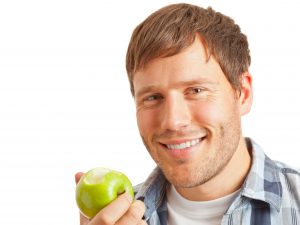 There are several challenges that can affect a person who has trouble maintaining an even bite. If your bite is awkward or uneven, it can cause you to unintentionally overuse certain teeth, wearing them down prematurely and making them more vulnerable to harm. You can also be more likely to develop issues with your jaw joints and muscles because of uncomfortable movements. When that problem is not resolved in time, it can lead to painful TMJ problems. Our Bellaire, TX dentist's office is prepared to help you address troubles that you may have with your bite function. One approach is to resolve problems with malocclusion through orthodontic treatment. By straightening your teeth, we can improve your ability to bite and chew in a more comfortable manner and reduce stress on your joints!
Don't Ignore Problems With Your Bite Function!
Issues with pain, sensitivity, or stiffness when you bite and chew should not be ignored! When TMJ disorder impacts your life, it can lead to an increase in headaches, chronic pain in your face and jaw, and a higher risk for dental damage from teeth grinding. You can also have problems because you unknowingly overuse certain teeth when you bite and chew, which make them more vulnerable to difficulties.
Starting Orthodontic Treatment To Address Malocclusion
Orthodontic treatment can help many people with awkward or uneven bite movements. We can recommend traditional metal braces, or a more discreet treatment option, like removable clear aligners, to move teeth that overlap or are too far apart. This corrective work can improve your bite function by helping you apply and release pressure evenly. This service also helps you by improving your appearance and making oral hygiene easier to manage!
Other Solutions For Problems With TMJ Disorder
TMJ disorder arises when your jaw joints are no longer moving in alignment. This may happen to someone because they bite and chew awkwardly, but it can also happen as a consequence of teeth grinding or due to an injury that affects your jaw alignment. When we meet with you to discuss biting and chewing pain, we can determine what approach might be right for helping you. One option we offer involves the use of an oral appliance to gently change the position of your lower jaw in order to improve your joint alignment.
Talk To Your Bellaire, TX Dentist About Addressing Bite Difficulties
Your Bellaire, TX dentist's office is ready to help if you are beginning to struggle with bite difficulties. If these problems are not addressed, you can experience chronic pain and become vulnerable to persistent teeth grinding! Upon review, we can see what role malocclusion might play in altering your bite function and jaw alignment, and determine if orthodontic treatment or another treatment approach may be right for you. To find out more, please contact Contemporary Dental And Orthodontics at 713-668-9119.