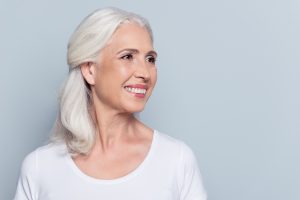 When a patient needs dentures to replace a row of teeth, the restoration they receive will be custom-made to ensure it fits securely and comfortably. Over time, that fit can feel less secure as jawbone deterioration takes place. This problem will affect people after tooth loss because they no longer have the roots of their teeth present to stimulate the bone. Unfortunately, this can lead to problems with less secure dentures as well as oral health and cosmetic concerns. At our Bellaire, TX dentist's office, we can talk with patients about making the move to dental implant-held dentures. With implant dentures, you can enjoy more bite support, protect yourself against jawbone deterioration, and be free of frustration over a restoration that slips or feels insecure.
Have Your Dentures Become Less Comfortable Over Time?
As you lose jawbone density, your denture can begin to feel less stable or secure. Unfortunately, the loss of jawbone tissues is a consequence of tooth loss even when you have a denture in place. Over time, the lack of stimulation from the roots of teeth will cause the bone to lose access to nutrients, which will gradually lead to its deterioration. As the problem progresses, you can become self-conscious about your appearance and unhappy with a denture that has stopped feeling as secure as you would like.
Using Dental Implants To Hold Dentures
Through the placement of multiple implants, you can have permanent support for a denture. While dental implants often hold dental crowns to fill in a single missing tooth, they can be used to hold larger prosthetic appliances. At an evaluation, your dentist will determine how many implants are required, and where they should be located. When you go through placement and enjoy the appropriate recovery time, you can return to have a custom denture set in place.
A Stable Prosthetic Can Improve Your Bite Function
With limited bite support, you can have a harder time maintaining a healthy bite and also struggle with TMJ pain. Implant-held restorations are used to do more than just provide patient comfort and prevent trouble with tissue deterioration. A stable denture can help you enjoy a richer, more varied diet and also correct unresolved problems with a limited bite.
Talk To Your Bellaire, TX Dentist About Implant-Held Dentures
Your Bellaire, TX dentist's office is ready to take on problems caused by dentures that have stopped feeling secure. You can meet with us to discuss the benefits of moving from removable dentures to a restoration held in place with dental implants. This arrangement provides more bite support and protects you against jawbone deterioration. To find out more about how we can help you restore your smile or adjust to life with a dental prosthetic, talk to Contemporary Dental And Orthodontics at 713-668-9119.