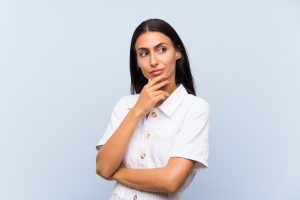 Traditional braces that rely on brackets and wires to gradually move teeth have helped patients with a range of concerns about poor smile alignment. These issues, known as malocclusion, affect a person's appearance while also creating potential difficulties with bite function and cavity prevention. As common as they are as a form of treatment, many people look for alternatives to these appliances when they want to correct trouble with gaps and overlaps. At our Bellaire, TX dentist's office, we can recommend two alternative orthodontic treatments. One is treatment with lingual braces, which are braces applied to the backs of teeth. Another option is to provide clear aligners. Aligners like Invisalign and ClearCorrect are both discreet and easily removed, which can make the treatment experience easier to manage.
Why Some People Seek Alternatives To Traditional Braces
As successful as they are at correcting problems with teeth that are not properly spaced, conventional braces can be less than appealing to some patients. Simply put, the idea of wearing a conspicuous, permanently placed appliance can make them uneasy. In addition to affecting the way you look, your braces can feel intrusive when you need to eat or clean your teeth. With alternative options, you can still fix problems with malocclusion while avoiding some of the frustration that can stem from orthodontic treatment.
Using Lingual Braces Or Clear Aligners To Fix Your Smile
Lingual braces, like traditional orthodontic appliances, use a series of brackets connected with wires to gradually move teeth. However, they are placed on the backs of teeth, which makes them discreet. With clear aligners like Invisalign and ClearCorrect, you can address problems with gaps and overlaps with custom-made aligners that gradually move teeth into place. The series of aligners you receive are easy to remove, which means they are not in your way whenever you eat or clean your teeth. After a consultation with your dentist, you can determine which of these alternative appliances might be right for you.
Mild Alignment Flaws May Be Fixable With Cosmetic Treatment
Sometimes, problems with minor gaps and overlaps can be hidden through cosmetic dental treatment. With porcelain veneers, we can cover these flaws, and we can also cover up discoloration, problems with wear and tear, and even issues with chipping or cracking that have hurt the way you look. The advantage of this approach is results in a relatively short time, as veneers can be placed in as little as two appointments.
Talk To Your Bellaire, TX Dentist About Straightening Your Teeth
Our Bellaire, TX dentist's office is ready to work with individuals who are worried about the alignment of their teeth. With the right appliances, we can help you address these issues and put feelings of self-consciousness behind you! For more information, please contact Contemporary Dental And Orthodontics at 713-668-9119.