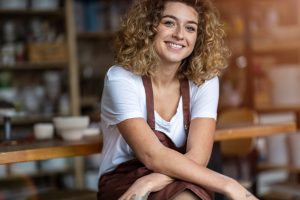 If your teeth are too far apart, or if they are too close together, you can experience cosmetic and oral health issues. Malocclusion is a frustrating issue, one that often calls for orthodontic treatment to resolve. At our Bellaire, TX dentist's office, we provide multiple approaches to care for those interested in straightening their teeth. In addition to using traditional braces to make changes to the way that your teeth are aligned, we can recommend discreet alternatives, like lingual braces and clear aligners, to fix your problems. In some cases, cosmetic dental work can be effective at covering minor gaps or overlaps that hurt the quality of your appearance.

Malocclusion Can Cause More Than Just Cosmetic Issues
People who seek orthodontic treatment often have issues with their appearance they are eager to change. Straightening your smile can give you a more symmetrical appearance, and it can address issues with visible flaws that embarrass you. With that said, this work offers more than just a chance to change the way you look. When you fix problems with malocclusion, you can lower your risk for TMJ disorder by improving your bite function. If your teeth overlap, straightening them can make it easier for you to keep them clean, which means you lower your risk for problems with tooth decay or gum disease.
Starting Orthodontic Treatment
After an examination of your smile and oral structures, your dentist can talk to you about your options for addressing malocclusion. The digital imaging technology we use helps us closely study patients to determine their needs and start the process of closing gaps and spacing out teeth that overlap. With traditional or lingual braces, we will assist with your adjustment when necessary. Clear braces do not require manual adjustments, which lowers the number of visits that you might need to arrange.
The Right Appliance Will Enable You To Straighten Your Teeth Discreetly
Lingual braces and clear aligners are both effective at resolving problems with malocclusion while avoiding detection. Lingual braces rely on a system of wires and brackets, like traditional braces, but they are placed on the backs of teeth. Their placement will let you work on your adjustment without drawing undesired attention but still produce the positive results that you want. With clear braces, you use a series of clear plastic aligners that are designed to move teeth step-by-step into their proper alignment. Because they can be removed by you, it is possible for you to have them out of your way when you clean your teeth or eat!
Talk To Your Bellaire, TX Dentist About Straightening Your Teeth
Your Bellaire, TX dentist's office is ready to help you deal with malocclusion! With the right procedure, we can make your smile more attractive while also addressing oral health concerns tied to poor dental alignment. To find out more about how we can help you, contact Contemporary Dental And Orthodontics at 713-668-9119.