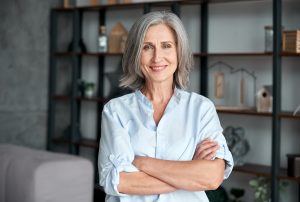 When patients receive their dentures, they can be happy to show off a more youthful and attractive smile. When a denture is secured with dental implants, they can also enjoy long-term improvements in their bite function and oral health! Our Bellaire, TX dentist's office is ready to meet with people who are ready to receive a denture held in position with implants. We can work with you to provide your first prosthetic, or we can make arrangements to place implants for those who have been dependent on a restoration to hide gaps in their smile. In either scenario, you can benefit from making your prosthetic dental procedure a priority, as implants will help you avoid complications from jawbone deterioration that can occur after tooth loss.
Enjoy Cosmetic And Oral Health Improvements From Prosthetic Work
Through prosthetic dental work, people who have experienced tooth loss regain confidence in their smile as well as the restored ability to bite and chew. Implants make functional improvements easier to enjoy because they offer more stability for restorations. Essentially, they act the way that the roots of our teeth do to hold appliances in place. By stabilizing dentures and other prosthetic restorations, you are able to enjoy improvements that address more than just the cosmetic impact of tooth loss!
Using Dental Implants To Hold Dentures In Place
At our practice, we can examine your smile in order to determine how implant placement should proceed. The right number of implants, set in the right angles and locations, can ensure that your denture stays secure and supports your bite function. After you receive your implants, you will take time to heal. During this period, your jawbone will actually fuse to the titanium posts, as they are made from biocompatible material. After you heal, you will come back to our office to receive your custom denture!
The Trouble With Putting Off Prosthetic Work
Whether you are looking to address the loss of one tooth or need a larger dental bridge or denture to restore your smile, you should make treatment a priority. The longer you wait, the more vulnerable you become to the effects of tooth loss. Those effects include jawbone deterioration, something that occurs when the roots of teeth are no longer present and stimulating your jaw. Without that stimulation, your body will stop moving nutrients the bone, leading to its loss of density. Those who wait to respond to tooth loss can have this issue affect their treatment experience, as work may need to take place to ensure there is enough support to hold their dental implants.
Discuss Prosthetic Dental Work At Contemporary Dental And Orthodontics!
Contemporary Dental And Orthodontics can work with you to give you back your complete smile! With the placement of dentures held by dental implants, it is possible for you to regain confidence in your appearance and dental function. To find out more, please contact our Bellaire, TX dentist's office at 713-668-9119.