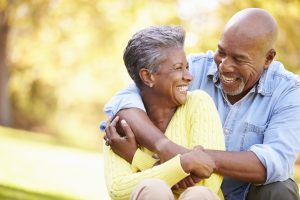 How much trouble can tooth loss really cause a person? If you have lost just one tooth, you can be familiar with the different difficulties your condition can create. You can find it harder to bite and chew certain foods, and may even feel awkward when speaking at times. If you have left tooth loss unresolved for a longer period of time, you may have found yourself bothered by the onset of TMJ disorder, or felt teeth around a gap start to shift and loosen. In time, you can even begin to struggle with jawbone deterioration. At our Bellaire, TX dentist's office, we are ready to work with individuals who want to show off a complete smile again. With the use of dental implants, we can place restorations that enjoy permanent support for prosthetic teeth.
Tooth Loss Causes More Than Just Cosmetic Problems
When you have a missing tooth, and the gap it leaves behind is difficult to hide, it can be difficult to maintain your confidence in your smile. Some issues with tooth loss are more noticeable than others, and the degree of your tooth loss can also influence how the problem changes the way you appear. With that said, there is more to this problem than just its effect on your appearance. We rely on all of our teeth when we bite and chew. Having just one absent can negatively change your bite function, which can lead to overuse of your remaining teeth and TMJ problems. In time, the teeth around your gap can start to loosen, which can make them more likely to be lost as well.
Jawbone Deterioration Can Occur If Your Smile Remains Incomplete
If you continue to ignore a problem with tooth loss, you can experience a growing concern with jawbone deterioration. This deterioration creates problems with your appearance, as it can start to create a "sunken" effect, and it can become an issue for your oral health. Waiting to address tooth loss can become an issue if you are interested in having a dental implant placed, as the lack of density in your jawbone may affect your candidacy. Because of this, you may need more preliminary work before your full smile can be restored!
Making Plans To Restore Your Incomplete Smile
Dental implants are used in the replacement of individual teeth, but they can also be useful for larger restorations, including dentures. At an evaluation, your dentist can discuss the process of having dental implants put in place to hold restorations, and do an evaluation to locate where an implant (or implants) should be set. After this work is done, you will be given time to heal before a custom prosthetic appliance is set in position.
Discuss Prosthetic Treatment At Our Bellaire, TX Dentist's Office
At our Bellaire, TX dentist's office, patients who are ready to do something about tooth loss can meet with us to discuss the benefits of prosthetic dental work with dental implants. To find out what we can do for you, please contact Contemporary Dental And Orthodontics at 713-668-9119.