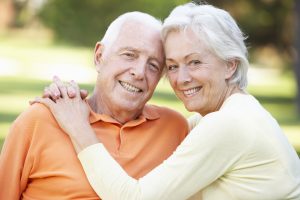 Tooth loss is difficult enough when only one tooth is missing. If you find yourself needing full or partial dentures, your confidence in your appearance and oral health can be badly shaken. You can expect your dentures to give you back a full, confident smile, but can your restoration offer additional benefits? With dental implants to hold your appliance in place, you can find that your restored smile also makes practices like biting, chewing, and speaking more comfortable. Implants help patients by securing restorations to their jaw and keeping them stable. At our Bellaire, TX dentist's office, we can work out plans to fully restore your smile by placing an implant-held denture. In addition to enjoying better function, you receive protection against jawbone deterioration.
What Can Dentures Really Do For You?
When patients have dentures put in place, what will change for them? If you are only familiar with removable dentures, you may have questions about how your prosthetic will support you when you are trying to eat, or wonder how comfortable it will be to keep them in place throughout the day. While removable dentures have proven effective at dealing with tooth loss, there are benefits to having implants support them that you should review. With this added degree of stabilization, you can have an easier time applying bite pressure. This does more than just make meals less awkward, it also makes it easier for you to keep eating a variety of nutrient-rich food. Of course, since your dentures are made to closely match the look of natural teeth, you can enjoy the way they give you back the ability to smile with confidence.
Learning The Benefits Of Dental Implant Support
Dental implants are used to hold dental crowns, dental bridges, and full or partial dentures. Their role mirrors the role that roots play in supporting teeth. Set directly into your jawbone, implants anchor restorations so that they stay securely in place. The degree of support is enough to let you feel comfortable biting or chewing foods that have proven difficult to eat without your full set of teeth. They also provide stimulation that tells your body to send nutrients to the bone and keep it healthy. Without that stimulation, the bone will lose mass over time, leading to changes in your appearance and oral health. For those with removable dentures, this change can make a restoration feel less secure.
Receiving Your Dental Implant-Held Dentures
Your dental implant placement will be planned with the aid of advanced imaging technology. Its use allows us to find just the right angle and placement for the implants that you will receive. While a denture manages to replace all of a person's upper or lower teeth, only a limited number of implants is needed to secure it.
Talk To Your Bellaire, TX Dentist's Office About Implant-Held Dentures
At our dentist's office in Bellaire, TX, patients who have experienced significant problems with tooth loss can learn about the benefits of dentures held in place by dental implants. To find out more, please contact Contemporary Dental And Orthodontics at 713-668-9119.