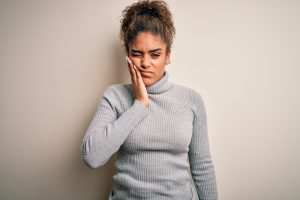 How long will you have to tolerate a dental injury before it is restored? At our Bellaire, TX dentist's office, patients who experience dental trauma can reach out to us to have a tooth taken care of in as little as one appointment. Our practice is able to respond quickly when patients have chipped, cracked, or otherwise broken teeth thanks to CEREC technology, which allows us to produce same-day dental crowns. These crowns are designed and produced in-house before being set in place. They are made from a ceramic material that matches the look of your healthy enamel, which means their placement addresses the health and cosmetic concerns around trauma.
A Dental Injury Can Be A Serious Cosmetic And Oral Health Concern
Physical trauma that affects your tooth can potentially create problems for your appearance as well as your dental health. Any injury should make you concerned about the health of your smile, as a chip or crack leaves you vulnerable to more damage, and it will also make you susceptible to an infection. If an infection forms and is not treated in time, the tooth can be lost! If an injury occurs in a visible area, you can be alarmed by how your smile changes as well as by how your tooth's health is impacted.
Scheduling Treatment With A CEREC Dental Crown
At our practice, we have digital tools that will allow us to digitally measure a tooth, then take those measurements and use them to design a custom crown. Once this work is done, an in-office milling machine can produce a restoration that we are able to put in place on the tooth to keep it secure and safe. If necessary, we can do this in addition to providing root canal therapy so that your hurt tooth is fully restored in a short time.
CEREC Crowns Also Shorten Cavity Treatment Times
With our CEREC crowns, we can take care of advanced cavities in a shorter time, too. When dental decay is too severe for a dental filling, a crown is used to keep a tooth safe. Once the decay affecting the tooth is addressed, we can move forward with planning the placement of your custom crown in order to keep your tooth healthy and free from potential complications.
Your Bellaire, TX Dentist Can Restore Your Injured Tooth With A Same-Day Crown!
At our Bellaire, TX dentist's office, we are prepared to help patients when they need a dental crown for an injury. Because we use CEREC technology to create crowns in-house, we can actually produce the restoration that you require in as little as one visit, effectively shortening the time it takes for you to have your smile and oral health restored. To find out more, contact Contemporary Dental And Orthodontics at 713-668-9119.