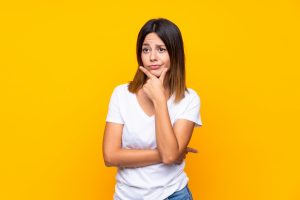 If you have found it difficult to fully protect yourself against tooth decay or gum disease, or if you have concerns about TMJ disorder, what can you do to better preserve your oral health? One reason people struggle with problems, even when they commit to good oral hygiene, is that they have unresolved problems with malocclusion. In other words, issues with crooked teeth can actually have effects on your oral health! At our Bellaire, TX dentist's office, we can discuss the benefits of fixing problems with your smile alignment. In addition to using traditional braces to help with this, we can provide corrective work with more discreet treatment options like clear aligners.
Malocclusion Can Be More Than A Cosmetic Problem
If your teeth are not properly aligned, you may be affected by more than just frustrating smile flaws. Malocclusion can lead to difficulties with maintaining an even bite. Over time, that can lead to tension that builds up and affects your jaw joints and muscles, which can lead to TMJ disorder. It can also interfere with the way you bite and chew by causing too much friction on certain teeth, making them vulnerable to problems. Those who have teeth that overlap can find it more difficult to prevent problems with tooth decay and gum disease, as the spaces where those teeth meet can be harder to keep clean.
What Are Your Options For Orthodontic Treatment?
Traditional braces are capable of fixing a range of issues with malocclusion. With brackets and wires, we can gradually move teeth into better spacing when they are affected by overlaps or gaps. If you want to rely on a traditional appliance but worry about how treatment will affect your smile, you can discuss treatment with lingual braces. Individuals who undergo treatment this way will have appliances set against the backs of their teeth in order to discreetly fix smile flaws. We also have the option of using clear aligners for your care. When clear aligners are used, patients enjoy an adjustment with an appliance that is removable as well as difficult to see!
The Link Between Orthodontic Treatment And TMJ Treatment
Your dentist may bring up orthodontic work when talking to you about treatment for TMJ disorder. This can be necessary when bite difficulties cannot be solved without corrective work to fix poor bite alignment. We can also discuss the use of a special oral appliance to correct the alignment of your jaw joints if they are currently not evenly aligned.
Talk To Your Bellaire, TX Dentist About Straightening Your Crooked Smile
Your Bellaire, TX dentist's office is prepared to help you if you are ready to fix your crooked smile. To find out more about orthodontic treatment, and its benefits for your oral health, contact Contemporary Dental And Orthodontics at 713-668-9119.