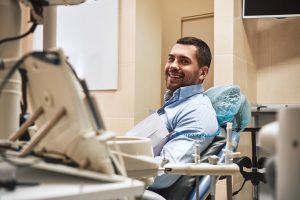 While evaluations of your smile are important when we perform a routine dental evaluation, it is also important to closely evaluate your oral structures if we are planning a procedure. Work to restore your smile with a custom appliance, or thorough orthodontic treatment, can benefit from detailed images. To capture these images, our Bellaire, TX dentist's office will rely on technology like digital x-rays, as well as Conebeam technology. Conebeam scanning actually uses x-ray images from multiple angles to capture measurements and helpful images. Of course, evaluations are just a part of your overall treatment experience. We are also prepared to provide work that can have lasting value for your smile, and for your overall oral health!
A Careful Study Of Your Smile Can Help Us Identify Concerning Symptoms
With a close and thorough view of your smile, we can identify early warning signs of trouble. By doing so, we can step in and treat the matter before you experience any complications. Thanks to intraoral cameras, we can take careful studies of areas that are difficult to see through a visual inspection. By using them, we can find evidence of decay or physical injury that might be hard to observe otherwise, and we can take action to restore the tooth in question.
Using Digital Imaging Technology To Plan Treatment
When we perform work that involves custom appliances, it is important that we have detailed measurements of your teeth and oral structures. With these measurements, we can provide customized treatments that yield impressive results. If you are looking into work to improve your smile by fixing dental damage, straightening poorly spaced teeth, or undergoing any other work to make noteworthy changes, you can be happy to know that your treatment is beginning with detailed advanced studies!
The Long Term Benefits Of Oral Health Evaluations
In the long term, the right procedure can have lasting benefits for both your oral health and appearance. A custom restoration like a dental crown is easier to rely on when it is carefully made, and it can feel more comfortable when the right measurements are used. If you are interested in treatment with clear aligners, the right images can help us plan out a successful treatment, and also provide you with appliances that fit securely throughout your adjustment.
Schedule Dental Care At Our Contemporary Dental And Orthodontics
Contemporary Dental And Orthodontics relies on technology to help patients see exciting results from treatments, and to make your dental care more comfortable. We have helped many people deal with oral health and cosmetic issues, and we also provide ongoing support to help you prevent future oral health troubles. To find out more about our practice, or to discuss a particular service, please call our Bellaire, TX dentist's office at 713-668-9119.