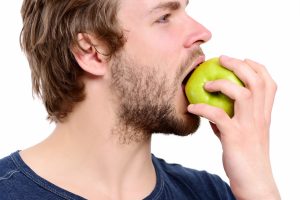 When oral health problems arise, they can interfere with your quality of life in ways that make them hard to ignore. One thing you may have trouble with is your bite. Sometimes, patients are unable to comfortably bite and chew food because their jaw feels stiff and sore. Others may struggle with pain in a tooth, or with a gap left by tooth loss. Our Bellaire, TX dentist's office is prepared to help individuals who want to restore their bite. We provide restorative dental procedures that can take care of a person's unhealthy or incomplete smile while also preserving their appearance. We also have experience taking care of patients who struggle with jaw pain due to TMJ disorder.
Dealing With The Negative Effects Of TMJ Disorder
Teeth grinding, jaw soreness and stiffness, and even headaches can occur when a person has unresolved problems with their jaw joints and muscles. These issues are referred to as TMJ disorder, and when they are not addressed they can hurt your quality of life in multiple ways. Treatment with a custom oral appliance can help if you have problems due to stress on your jaw, or poor alignment of the joints. For people who suffer from bruxism, we can provide a custom guard to prevent their grinding and clenching from damaging teeth.
Tooth Loss Can Change The Way You Bite And Chew Food
The way you bite down can become altered by a single missing tooth. Unfortunately, the change brought on by tooth loss can lead to wear and tear on your remaining teeth, and may lead to more problems with TMJ disorder. Our practice can recommend prosthetic dental work with dental implants. Having implants in place will allow for the permanent placement of a lifelike restoration that helps you bite, chew, and speak in a way that can feel more natural to you.
Crooked Teeth Can Impact A Person's Bite Alignment
Sometimes, patients are not able to maintain a comfortable, natural bite motion because of the way that their teeth are aligned. This can make you uncomfortable, cause you to overuse certain teeth, and even create problems with chronic discomfort. In addition to fixing a person's smile with traditional metal braces, we have experience treating alignment problems with more discreet appliances.
Our Bellaire, TX Dentist's Office Can Help You Restore Your Bite
Your Bellaire, TX dentist's office has experience helping patients who struggle with their oral health due to bite troubles. Through the appropriate treatment, we can address dental discomfort as well as issues that might threaten the health of your teeth. If you have problems that currently affect your bite function, or if you have any other oral health concerns, you can reach Contemporary Dental And Orthodontics by calling 713-668-9119.