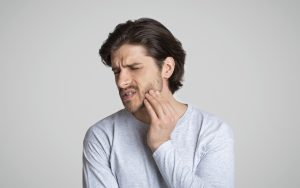 If you seem to be free of any oral health problems, you can stick to regularly scheduled routine dental exams. At these visits to our Bellaire, TX dentist's office, your dentist can check to see if there are any problems with your smile that might require attention. These appointments keep patients informed about problems that can develop over time, and ensure those problems are treated before they worsen. Of course, some problems can develop with little notice, and they can require attention as soon as possible. Our practice is aware that these problems can happen, and in response to them we do offer emergency dental services. During an emergency appointment, your dentist can determine what is wrong with your tooth and provide relief through the appropriate treatment. Because equipment at our location allows us to create dental crowns in just one day, we can shorten the time that it might take to fully restore a tooth that is injured or infected.
Some Problems Require Treatment As Soon As Possible
If your tooth is injured, knocked loose, or causing you a severe amount of pain, you can be right to seek out treatment as soon as possible. Issues with infection and physical trauma can be more than just uncomfortable – they can also lead to the potential loss of your tooth! Because our practice offers emergency dental services, you can set up time to see your dentist and have an issue evaluated and appropriately treated. This makes saving the tooth more likely, and it can reduce the amount of time you spend in pain.
What To Expect When Undergoing Emergency Dental Work
Because dental emergencies can be painful, our first priority can be to address the discomfort you are feeling when you arrive for treatment. Once this occurs, we can see what kind of treatment might be necessary to save a tooth and return it to good health. Injuries that lead to enamel damage or persistent pain can call for root canal treatment, as these issues make internal treatment necessary. Once the root canal procedure is performed, work can be done to restore the tooth so that it remains healthy.
If your tooth is badly damaged, or if it has been knocked out, the goal will be to save it. Unfortunately, this is not always possible. In the event that your tooth is past the point of saving, we can make arrangements to restore your smile through prosthetic dental work.
Our CEREC Dental Crowns Can Lead To Completed Dental Work In Less Time
We have technology in our office that allows us to design, create, and even place a custom dental crown in a single day. During an emergency procedure, the CEREC technology making this possible can lead to a shorter and more convenient treatment time. You can be happy to know that the restoration produced via this technology is made from a ceramic material that can match the color and texture of a natural tooth.
Your Bellaire, TX Dentist's Office Can Provide Dental Services During An Emergency
Our Bellaire, TX dentist's office is prepared to help patients when they require treatment during a dental emergency! To learn more about our services, call Contemporary Dental And Orthodontics at 713-668-9119.