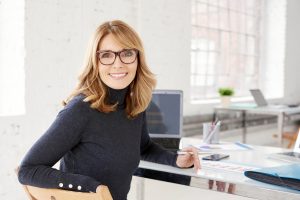 What should your priorities be when it comes to restorative dental work? Is it more important to have the work completed as soon as possible, or to take your time and receive a custom restoration that effectively restores your smile? If you have a tooth with an advanced cavity, or one that is broken after an injury, the process of restoring it can involve the placing of a custom dental crown. Thanks to the technology at our Bellaire, TX dentist's office, we can actually produce a lifelike crown for you in just a single appointment. With CEREC technology, we can give you a reliable restoration without a frustrating waiting period, and without needing assistance from a third party dental laboratory.
A Custom Restoration Can Provide Lasting Support To A Tooth
After your tooth is damaged by decay or trauma, it can be necessary to place a crown over it for support. The technology we use to produce same-day crowns is able to produce a restoration that is the right size, shape, and even the right color to fit in with your smile. While the appearance of your crown matters, it is also important to have a restoration that keeps your tooth protected for the long-term. While it is popular for its attractive, enamel-like look, the dental ceramic used to make your restoration can hold up against years of biting and chewing pressures.
When Is It Necessary To Use A Dental Crown During Treatment?
Crowns are not always necessary for the treatment of a cavity. It may be possible to restore your tooth with a dental filling if the issue is caught in time. A filling only covers the area where infected tissues had to be removed, making this a more conservative solution. A crown can be required if you had to undergo a root canal procedure to deal with an infected tooth, or if your tooth is significantly chipped or cracked.
How Same-Day Crowns Affect A Patient's Experience With A Dental Emergency
It is difficult to imagine a dental emergency that is not painful or upsetting. With that said, access to care from your dentist on short notice can make the experience easier to deal with. Because we can produce same-day crowns, we can have your smile restored in less time after an emergency, and we can require fewer visits to our practice to have the matter fully resolved.
Our Bellaire, TX Dentist's Office Can Provide Same-Day Crowns To Patients
At our Bellaire, TX dentist's office, we are prepared to take on a problem with your smile, even if the matter calls for emergency dental work. Our patients can look forward to care that is surprisingly convenient thanks to our CEREC technology, which allows us to produce dental crowns in just one appointment! To find out more about our practice, please call Contemporary Dental And Orthodontics at 713-668-9119.