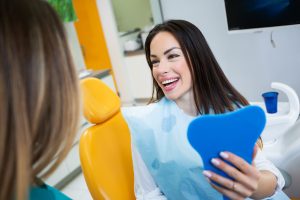 Before your Bellaire, TX dentist can move forward with a procedure that can benefit your smile, we need to gather the right information. Our practice can use modern Conebeam CT scans to capture detailed measurements of your teeth and bite in order to plan an important treatment for you. This technology captures digital x-rays from multiple angles to give us precise models of your oral structures that we can use to design appliances and plan orthodontic procedures. This is just one example of how our practice relies on tools and technology to provide positive patient experiences. We also take care to offer treatments that rely on tooth-colored restorations or clear braces to ensure that your treatments offer cosmetic benefits as well as functional ones.
Conebeam Scanning Technology Helps Us Plan Dental Treatments
With Conebeam CT scanning, our practice can gather precise measurements of patients' teeth and oral structures that help us plan upcoming procedures. The process removes the need for awkward manual bite impressions, and yield data that can help us create customized appliances for beneficial procedures. The details can also be quickly gathered, making this part of your treatment more convenient.
Arranging The Restoration Or Replacement Of Teeth
When creating custom restorations to protect or replace teeth, accurate measurements can be valuable. For example, when a tooth is being restored with a dental crown, we can gather the appropriate details in order to have a crown produced that fits comfortably and securely. The accuracy of its design can ensure that it feels comfortable between neighboring teeth, and that it continues to provide support for your vulnerable tooth over an extended period of time. We can also rely on detailed measurements to plan procedures where missing or unhealthy teeth are replaced with lifelike prosthetic appliances.
Taking Measurements Before Orthodontic Treatment
Orthodontic treatment calls for the use of appliances that gradually move teeth into better positions. It is important for us to have a clear measurement of both your teeth and alignment to help provide a personalized approach to your care. We can take care to plan a smile correction with traditional braces, as well as treatment with lingual braces and clear braces. Lingual braces and clear braces both provide treatment options that deliver results while minimizing an effect on the way you look.
Our Bellaire, TX Dentist's Office Can Use Digital Scans To Plan Impressive Dental Work!
At our Bellaire, TX dentist's office, we are committed to helping patients enjoy procedures that can improve both their appearance and their oral health. Modern imaging technology is used at our practice to help examine a person's dental well-being, and it can help us make plans for treatments that can straighten or restore your teeth. To find out more, call Contemporary Dental And Orthodontics in Bellaire, TX today at 713-668-9119.