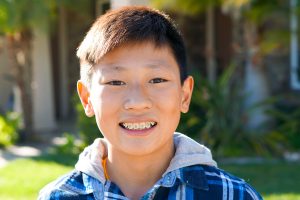 As your child grows, you may notice that their teeth appear to be crooked or uneven. Problems with dental alignment affect many people, but these issues can be effectively addressed through the appropriate orthodontic treatment. If you stay consistent with bringing your child in for pediatric dental appointments, you can receive updates from your dentist about when it might be time to consider this treatment for your kid. At our Bellaire, TX dentist's office, we can actually arrange orthodontic care for young patients, which means we can provide important support before and during their adjustment. If it is appropriate, we can even recommend early orthodontic treatment in order to limit problems with malocclusion as your child grows.
Recognizing Alignment Issues At An Early Age
Alignment problems are an issue that many young people can experience. From an early age, your dentist can check on the progress of your child's smile as their oral structures develop. This means that you can receive early warnings if there are developmental issues. In some cases, your dentist may suggest starting early orthodontic treatment. While they can still require an adjustment at a later date, this can help ensure they avoid more serious problems with malocclusion that might become difficult to address.
The Benefits Of Straightening Your Child's Smile
Having a healthy, straight smile can give your child confidence as they grow up. With orthodontic work, you can make sure that problems with gaps, overlaps, and other problems with the alignment of their teeth are corrected so that they do not feel self-conscious later in life. With that said, there are some important oral health benefits that orthodontic work can offer. For instance, straightening a person's teeth can help them develop a better bite function, which can keep them from experiencing problems with TMJ dysfunction and bruxism later in life. It can also be easier to keep straightened teeth clean, so your child is less likely to have problems that require restorative dental work.
Stay Informed About Your Kids' Oral Health Needs With Regular Dental Checkups!
Regular dental checkups benefit patients at any age, but there are some important advantages for younger patients. In addition to watching out for developmental concerns, your dentist can provide helpful tips your child can use to practice better oral care at home. Your dentist can also provide extra protection against cavities with fluoride treatments, which help teeth recover from decay, and dental sealants, which keep bacteria and food debris from accumulating directly on your child's enamel.
Talk To Contemporary Dental And Orthodontics About Orthodontic Care For Your Kids
At Contemporary Dental And Orthodontics in Bellaire, TX, we can talk to you about the potential benefits of orthodontic work for your child. To find out more, please contact Contemporary Dental And Orthodontics at 713-668-9119.