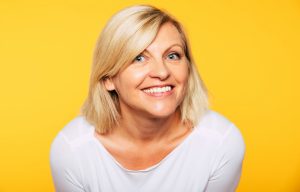 Problems with poor dental alignment can create different issues with the way people look. While one individual might have teeth that appear jagged or awkward because of overlaps, another could be self-conscious because they have too much space between teeth. If you feel unhappy with your appearance because of a gap in your smile, our Bellaire, TX dental and orthodontic office is prepared to help! Correcting the alignment and spacing of your teeth can boost your confidence, and it can help correct your bite. If you are concerned about wearing metal braces, we can talk to you about alternative options that can lead to successful changes. In some cases, a smile gap can actually be fixed without orthodontic work, as the problem can be successfully addressed through cosmetic dental treatment.
Poor Dental Alignment Can Make People Self-Conscious About Their Appearance
People can be self-conscious about poor dental alignment for many reasons. You might feel uncomfortable because you believe orthodontic flaws should have been fixed at a relatively early age, or because your smile is frustratingly asymmetrical. If your issue is specifically with a gap between teeth, you can feel like this space is attracting unwanted attention. You can bring up your concerns during an appointment, and find out what your options for treatment might be. We can also talk to you about potential oral health concerns your issue might cause, so you are fully aware of how your poor dental alignment affects you.
Discussing Your Options For Orthodontic Treatment
While traditional metal braces can successfully fix problems with teeth that appear out of place, you have other treatment options that can close a smile gap. Lingual braces make orthodontic work discreet by placing the appliance on the back of teeth. You may also be able to qualify for an adjustment with clear braces. In addition to being difficult to see, clear braces can make your adjustment period easier because they are easy to remove. This eliminates any concerns you might have regarding how you can eat comfortably, or effectively brush and floss your teeth.
Can I Cover A Gap Through Cosmetic Dental Care?
In some cases, a problem with poor alignment can be effectively hidden through a cosmetic dental procedure. It may be possible to cover up your gap through the placement of porcelain veneers. Veneers are custom-made, and can be crafted to address any issues that currently make you unhappy with the way you look. The process of placing veneers can be completed in as little as two appointments, which means you can have your desired results in less time than it would take to correct the positions of teeth.
Talk To Contemporary Dental And Orthodontics About Addressing A Gap Between Your Teeth
At Contemporary Dental And Orthodontics, we are prepared to help patients who feel self-conscious because of a gap between their teeth. To find out how we can correct this issue, and give you a new smile to show off, you can reach our Bellaire, TX dental office at 713-668-9119.