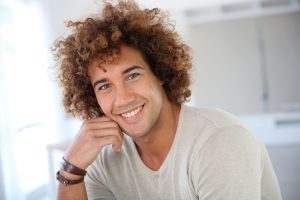 Our Bellaire, TX dental office is committed to providing great patient experiences during routine dental appointments, but we are also committed to offering fantastic restorative dental care when it is necessary. The frustrating reality around tooth problems is that they can result in permanent problems. If you have a tooth that becomes damaged due to a cavity, or because of an injury, a permanent restoration is required. The CEREC technology we have on-site allows us to produce attractive, custom dental crowns that can effectively protect teeth. In addition to crafting restorations that provide a proper fit, and even cosmetic benefits, CEREC technology makes it possible to have dental crowns put in place in the course of just one appointment!
What Features Can You Expect From A Modern Dental Crown?
A modern dental crown can protect your problem tooth, while also preventing any issues with your appearance. The ceramic material used to produce CEREC crowns can expertly imitate natural tooth enamel – the material's color can even be tinted to match neighboring teeth! A crown is meant to do more than just preserve your smile, or prevent new troubles with a tooth. These restorations are designed with durability in mind, so you can bite and chew like normal. As a result, you will not have to change your bite function, which helps you avoid future dental problems, and issues with TMJ dysfunction.
Receiving A Crown Produced With CEREC Technology
Our practice has the technology needed to digitally measure a tooth, craft a restoration based on those specific details, and produce a lifelike crown that is ready to be put in place! This advanced technology can result in dental treatment being completed in less time. That means you spend less time with a tooth that is vulnerable, and not able to contribute effectively when you bite and chew. It also means less wait for a restoration that can improve your smile!
Ignoring A Problem With A Tooth Can Cause Several Frustrating Issues
Ignoring a problem with your smile can make lead to consequences you would likely prefer to avoid! If you keep ignoring signs of a cavity, you could lose your tooth, and experience health complications. Going longer without treatment can also mean spending more time with discomfort in your daily life. While you can have a hard time finding anyone who looks forward to restorative dental work, you can be relieved to know that our practice can ensure your treatment is completed in less time!
Talk To Contemporary Dental And Orthodontics About Receiving A One-Visit Crown
At Contemporary Dental And Orthodontics, our patients can count on prompt restorative dental treatment thanks to our CEREC technology! To learn more about the services we provide, and the role dental technology can play in providing quality treatment experiences, contact Contemporary Dental And Orthodontics at 713-668-9119.