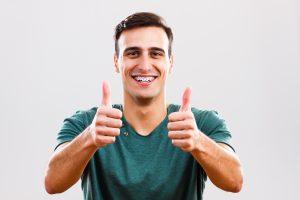 While you may believe that orthodontic work is more appropriate during a person's tween or teen years, you should be careful before writing yourself off as "too old" to worry about poor dental alignment. For many adults, orthodontic work can lead to remarkable smile improvements, as well as benefits for their oral health. At our Bellaire, TX dental office, we can talk to you about what you can expect from an orthodontic adjustment as an adult. We provide traditional metal braces, as well as lingual braces, which are more difficult to see. We can also talk to you about straightening your teeth with clear aligners, which can come with benefits that people of all ages enjoy!
Should You Look Into Orthodontic Work?
If you have always felt dissatisfied by the look of your smile thanks to poor alignment, or if your teeth have shifted after earlier orthodontic work, you could benefit from braces! After correcting the placement of teeth that seem out of place, your smile can appear healthier, more uniform, and just more attractive in general. With that said, a correction can do more than just change your confidence in the way you look. Straighter teeth can also carry a lower cavity risk, and help you improve your bite function.
Straighter Teeth Can Help Improve Your Oral Health
Poor oral hygiene habits, or a lack of regular dental exams, can result in a person having more issues with tooth decay. What you might not realize is that when you have teeth that overlap, it can be harder to protect yourself against cavities over time. This is due to the way that crowded teeth make certain areas harder to reach, which can make it harder for you to clear away plaque. Poor dental alignment can make it harder to defend against cavities while also creating problems for your bite. If your teeth are misaligned, it can be difficult for you to bite down comfortably. You may end up wearing down certain teeth to the point of making them vulnerable to oral health issues. You can also develop problems with your jaw over time that results in TMJ dysfunction.
Look Into Discreet Orthodontic Appliances
If you are self-conscious about wearing braces, or if you feel that they might compromise your ability to maintain a professional appearance at work, there are discreet appliances you can look into. One solution is to have lingual braces placed. Like traditional braces, these appliances rely on brackets and wires to move teeth. What makes them different is that they are placed on the back of your teeth, so they become difficult to see. You can also ask about clear aligners. Clear aligners are easily placed and removed by the wearer, and they can attract little attention when worn. With these appliances, you can count on your adjustment drawing minimal attention from others.
Talk To Contemporary Dental And Orthodontics About Starting Orthodontic Work
At Contemporary Dental And Orthodontics, we are ready to discuss the benefits of orthodontic treatment with our adult patients! If you have questions, or if you are ready to start adjusting your smile, you can reach our Bellaire, TX dental practice at 713-668-9119.