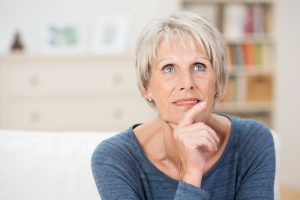 If you are contemplating prosthetic dental work, you can have a clear image of what you want your smile to look like when work is complete. You can picture yourself showing off a smile that is once again free of embarrassing gaps, and you should feel confident that your restorations can pass for natural teeth to others. What you may be less sure of is how attainable these results are, or what the process of restoring your full smile might actually involve. At our Bellaire, TX dental office, we can help you regain a more attractive and functional smile by offering dental implant-held restorations. A dental implant acts like a root for a custom prosthetic, making your replacement tooth more stable, and easier to trust when you bite and chew.
The Role Dental Implants Play In Restoring An Incomplete Smile
Dental implants have made it possible to give restorations better stability. These small titanium posts can be thought of as a prosthetic for the root of a tooth, rather than the portion of the tooth that remains visible. With the support of an implant, a durable prosthetic can remain in place whenever you bite and chew, while also giving neighboring teeth more support. Over time, the implant will actually help you maintain your jaw health, too. This is because the implant creates stimulation that is important for keeping the bone from depleting.
Looking Into Dental Implant Placement
Dental implant placement is an important step in the restoration of your complete smile. Before this procedure can take place, your dentist will perform a preliminary exam to determine where the implant should be set, and to see if any other oral health issues need to be addressed before you move forward with treatment. This evaluation provides you the opportunity to bring up any questions you have, or concerns. Because multiple implants can be used to support larger prostheses, like dentures or dental bridges, you can make plans to completely regain your smile even if you have multiple missing teeth!
What Can You Expect After Your Smile Is Restored?
The goal during any type of restorative dental work is to see you regain confidence in your dental function, and your appearance. With an implant-held restoration, you can feel better about the way you look, as implants can support custom-made, natural-looking appliances. You can also find that biting, chewing, and speaking become easier because you can count on real support from your dental work. Instead of taking care to avoid harming a restoration, you can enjoy normal jaw movement again, which can help you avoid problems like TMJ dysfunction.
Talk To Contemporary Dental And Orthodontics About Dental Implants!
At Contemporary Dental And Orthodontics, patients who want to do something about an incomplete smile can learn about the exciting advantages that come with dental implant-held restorations! If you have questions about prosthetic work, or any other service that we provide, you can reach our Bellaire, TX dental office by calling 713-668-9119.