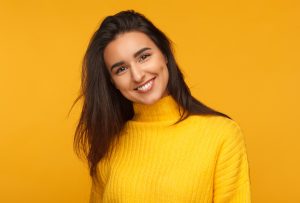 There is no single smile problem that everyone faces – while one person can have issues with poor dental alignment, another can have a problem with certain teeth that appear jagged or damaged. With that said, concerns about dental discoloration cause many people to feel self-conscious about the way they look. If you are someone who worries about the color of their teeth, and you have already tried a store bought whitening product, you may worry that the problem is not something that can be addressed. Rather than lose hope, talk to our Bellaire, TX dental practice about a professional whitening treatment! We can provide an approach to teeth whitening that can provide better results than an over the counter product. We can also talk to you about other cosmetic dental treatment solutions if something other than teeth stains affect the way you look.
We Can Offer Big Improvements With The Right Teeth Whitening Kit
The advanced whitening agents that we have access to are effective at removing tough enamel stains. You can choose between having your treatment at our practice, where a special light can speed up the effects of our whitening gels, or following instructions to whiten your smile at home. Both options are capable of breaking apart the accumulated stains that have left your teeth with a dull or yellowed look.
What To Expect From Your Teeth Whitening Treatment
Because we offer two different approaches to treatment, our patients can have different experiences based on the route they take towards a brighter smile. With a take-home whitening kit, you can fit your treatments into your schedule. You are given custom trays that are made to comfortably fit over your teeth. These trays are meant to make the application of your whitening agents easier, so you can count on a successful treatment outcome. It is also possible to arrange a single-appointment whitening treatment. The lights we use at our practice to stimulate whitening gels can have your smile notably brightened in just a single visit!
Our Practice Offers Several Approaches That Offer Significant Smile Improvements
Coffee, red wine, tobacco products, and many other items are known to create risks for dental discoloration. While discoloration caused by teeth stains are common, this is not the only type of discoloration that patients have to worry about! If you have problems with the color of your teeth because of a dental injury, after taking certain medications, or because of enamel erosion, you will want to look into alternatives to a treatment that is meant to target stains. We can offer porcelain veneers to our patients who face these issues. With veneers, discolored teeth can be covered up in order to brighten your dull smile. This is also an effective solution for patients who have problems with the shape or size of teeth.
Talk To Contemporary Dental And Orthodontics About Making Your Smile Whiter
At Contemporary Dental And Orthodontics, patients who want to do something about teeth stains can find that our whitening treatment options can produce great results! To find out more about teeth whitening, or any other cosmetic service we offer, call our Bellaire, TX dental practice at 713-668-9119.