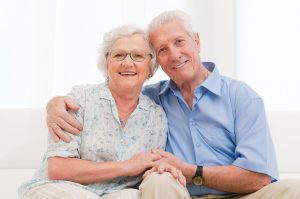 For anyone who has had a dental crown placed on a problem tooth, the benefits to receiving these restorations can be hard to ignore. After all, a dental crown allows you to save your tooth, while also making sure it is enjoying enough protection to once again contribute to proper biting and chewing. What might surprise you is learning that in addition to using crowns to restore teeth, your Bellaire, TX dentist's office can provide them as replacements for teeth that have been lost! When secured to a dental implant, a crown can act as a reliable, attractive prosthetic that you can depend on for cosmetic and functional improvements.
Your Incomplete Smile Can Create Real Problems For You
Losing even one tooth can create real problems for your smile! Once a single tooth has gone missing, your biting and chewing functions can be compromised – as a result, your remaining teeth are forced to do more work, and you can have difficulties with jaw pain related to TMJ dysfunction. A missing tooth also leaves its neighbors with less support, so they are more vulnerable to being lost in the future.
Using Dental Implants To Provide Stability For A Restoration
Dental implants offer great benefits to a patient in need of prosthetic dental work. While an implant is not a substitute for a tooth by itself, it provides you with an effective replacement for your tooth root. Restoring a lost root is important for multiple reasons. One is that your prosthetic work will enjoy more support, and be better for biting and chewing. Another is that implants stimulate your jawbone, which can protect you against an issue with losing mass in the bone.
The Right Prosthetic Treatment Can Improve Your Smile, And Your Dental Function
The goal during modern prosthetic dental treatment is to do more than just address the cosmetic problems associated with tooth loss. When working on restoring your smile, we can offer an implant-held restoration that improves your dental function, and protects your jawbone health. We can also talk to you about taking on any problems that might have developed while your tooth loss was still an issue. That can mean providing dental crowns for teeth that have been worn down from overuse during biting and chewing, or help with TMJ dysfunction.
Talk To Contemporary Dental And Orthodontics About Restoring Your Complete Smile!
At Contemporary Dental And Orthodontics, our practice can provide patients with great dental care! If you need treatment because of tooth loss, we can meet with you to discuss having an implant-held restoration set to improve your smile, and improve your dental function. If you have questions about prosthetic dental work, or any other service that we provide, you can reach our Bellaire, TX dental practice by calling 713-668-9119.