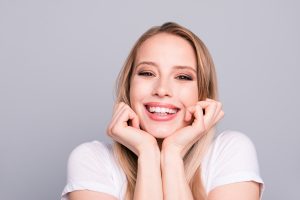 If you keep dwelling on those problems with your smile that make you self-conscious, and never look into what can be done to address them, you can find yourself trapped in a state of unhappiness. When people look into the potential benefits of cosmetic dental work, they can be impressed at how little work might stand between them, and their ideal smile. At our Bellaire, TX dental practice, we can talk to you about the services that we can use to help you feel better about the way you look. Because our practice provides dental work as well as orthodontic treatment, we can also help you if your cosmetic concerns are connected to the alignment of your teeth.
One Cosmetic Procedure Can Lead To Several Smile Improvements
It can be hard to feel optimistic about cosmetic work when you feel like you need to make several changes to your appearance. What you should know is that one cosmetic treatment is capable of addressing more than one problem at a time! We can talk to you about what you can expect from the placement of porcelain veneers on your teeth. When custom veneers are used to change the way a person looks, that person can be impressed at how the shape, color, and size of their teeth can be changed with this one treatment!
Using Clear Aligners To Fix Problems With Crooked Teeth
How would you like to fix problems with poor dental alignment without spending time with metal braces on your teeth? An adjustment with clear aligners can help you show off the smile changes you want, while having minimal impact on your appearance! In addition to providing you with a more discreet method of evening out the spacing and alignment of your teeth, clear aligners also provide a more convenient answer to orthodontic work. This is because these aligners, unlike metal braces, can be removed by you when you need to eat, or when you clean your teeth.
Dealing With Oral Health Issues That Also Affect Your Smile
After an initial review of your smile, your dentist can let you know if you are in need of restorative dental work. While this can sound like a setback, you can actually see meaningful cosmetic improvements from a procedure intended to address your oral health needs. Modern dental crowns can be designed to mimic healthy, attractive teeth. When a crown is placed on an unsightly tooth in your smile, it can have a positive effect on your dental function, and the way you look!
Talk To Contemporary Dental And Orthodontics About Improving Your Smile
Contemporary Dental And Orthodontics is ready to help individuals who want to feel great about their appearance when they smile! If you have questions about our services, or if you are ready to meet with us, please call our Bellaire, TX dental practice at 713-668-9119.