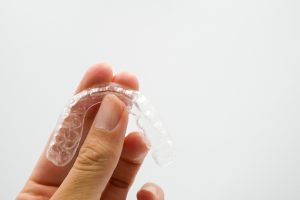 Sure, you can be excited to see your smile AFTER your orthodontic work is completed, but you can be less than thrilled when you picture yourself wearing conspicuous braces for an extended time period. Braces that rely on brackets and wires to straighten a person's smile can have a positive effect on someone's appearance, and they can make corrections that have meaningful oral health benefits. However, they can be less than ideal for anyone who needs to maintain a professional appearance, or for someone who might have their confidence in social settings shaken by them. If you keep putting off work to straighten your teeth because you are reluctant to wear metal braces, ask your Bellaire, TX dentist about alternative appliances, like clear aligners!
The Idea Of Metal Braces Can Make Some Patients Nervous
Between their conspicuous effect on your smile, and your inability to remove them when they might be in your way, you can be hesitant to undergo a smile correction with metal braces. This does not mean they are something you should avoid – after all, poor dental alignment can have a negative effect on your appearance, and may intrude on your dental function. In fact, you can have an easier time preventing cavities when your teeth are straightened, and you are less likely to develop issues with TMJ dysfunction. However, you can bring up your interest in using something other than traditional orthodontic appliances when you talk to your dentist about fixing gaps, overlaps, and other problems with teeth spacing.
Using Clear Aligners Instead Of Traditional Fixed Braces
By choosing clear aligners for your orthodontic appliance, you can enjoy a more discreet and convenient path to a better smile! For those who are approved, clear aligners offer you a chance to fix alignment problems with a set of clear, removable appliances that are custom-made to help you. Each aligner will be part of a sequence, which will bring your smile closer and closer to its ideal appearance. You can leave them in place in social and professional environments without drawing attention to them, and you can remove them whenever you need to eat, or when you want to clean your teeth.
Using Lingual Braces To Correct Your Smile
Lingual braces, like traditional braces, are affixed to your teeth, and they rely on a system of brackets and wires. What makes them different is that they are placed on the back of your teeth, so they are difficult for others to observe. This change in placement can allow you to maintain your confidence in the way you look, while also giving you a chance to make corrections to frustrating issues with the way your teeth are aligned.
Talk To Contemporary Dental And Orthodontics About Less Conspicuous Orthodontic Appliances
At Contemporary Dental And Orthodontics, patients can count on quality care! At our practice, we can offer the kind of orthodontic treatment that leads to meaningful changes, while minimizing the impact treatment has on your daily life. For more information, please call our Bellaire, TX dental practice at 713-668-9119.