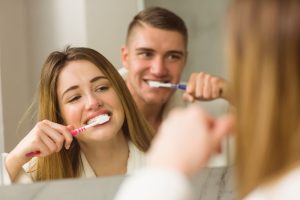 When you consider how much damage a cavity is able to do to your tooth structure, you can understand the value of effective preventive dental health care. Unfortunately, too many people assume that their habits are effective, when in reality they face a greater risk for decay than they realize. If you want to protect your smile from harm, you should make sure you are scheduling regular dental exams. At every routine visit to our Bellaire, TX dental practice, you can receive a thorough teeth cleaning, and a review of your smile that takes advantage of modern technology to check for any possible problems. In addition to providing great care at our practice, your dentist can advise you on better oral health practices to follow at home.
Are You Keeping Your Smile Safe From Oral Health Troubles?
How consistent are you currently being with your oral health care? Do you brush at least twice a day, and floss at least once? During these sessions, are you paying enough attention to ensure that you are always reaching every area of your smile? While preventive care in the form of expert brushing and flossing will matter, you should also take your oral health into account when thinking about your diet options, as excessive sugar consumption can make it hard to avoid tooth decay.
Making Positive Changes To Your Daily Routine
Consider the following when you are trying to determine if your oral care routine could be better:
How much time do you spend when you brush your teeth? You should give this activity at least two minutes, and you should focus on reaching all areas of your teeth.
Do you floss to prevent problems, or only when you feel something might be stuck between teeth? Flossing on a daily basis protects vulnerable spaces from accumulating bacteria.
How much harm are you doing to your teeth with your meal and snack choices? Too many soft drinks, and too many sweet and sticky treats, can make it hard to effectively defend your teeth against harm.
Including Regular Dental Exams In Your Larger Efforts To Protect Your Smile
Your dentist's office is ready to provide you with quality preventive dental care every time you come in for an appointment. The dental cleanings you receive during your visits remove tartar and plaque, so these harmful agents are not able to create problems for your teeth, or cause gum disease. Your dentist relies on experience and advanced imaging technology to fully examine your smile for oral health issues. When issues are caught in their early stages, more of your healthy dental material can be preserved. If something is wrong, and you only show up when you are experiencing painful symptoms, you could require a root canal and dental crown!
Talk To Contemporary Dental And Orthodontics About Better Dental Health Habits
At Contemporary Dental And Orthodontics, we are committed to providing superior smile care for our patients! If you want to make an appointment, or if you have any concerns about your oral health, you can reach our Bellaire, TX dental practice at 713-668-9119.