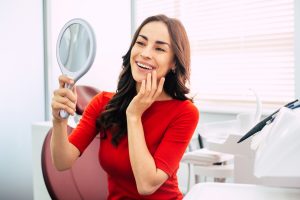 Many dental practices have to ask their patients to wait on a third party lab to produce a custom restoration. That waiting period can be a frustrating one, particularly if you have to rely on a temporary dental crown to offer support. At our Bellaire, TX dental practice, we can eliminate that frustrating delay by delivering your dental crown in one appointment! This is thanks to the CEREC technology we use to produce these restorations. Every step of the crown construction and placement can be handled in this appointment, ensuring that you will not have to spend time trying to keep a vulnerable tooth safe from harm.
Your Experience Receiving A CEREC Dental Crown
A CEREC dental crown is custom-made to fit in your smile, and to look remarkably like your natural teeth. The process of making this restoration first calls for your dentist to measure the tooth. Digital tools take these measurements, which are needed to design the appropriately sized crown. After the design is ready, an on-site milling machine will produce the crown, and your dentist can place it over your vulnerable tooth!
What Kind Of Problems Require Dental Crowns?
Dental crowns are frequently used for people who have to do something about cavities. Not every cavity calls for a crown – if you keep up with regular dental exams, your dentist is more likely to spot decay when all you require is a dental filling. However, these larger restorations are necessary if the crown does too much damage for a filling to address. Crowns are also useful whenever a person needs to have an injured tooth restored.
Tips For Preventing Future Problems With Your Smile
While the idea of a single-visit crown can be impressive, your goal should remain the same – avoid any dental troubles, and any need for a crown! To do this, you should make sure you are regularly brushing and flossing your teeth. Brushing twice a day, and flossing each day, will give you an important defense against plaque and tartar. Make sure you are also receiving professional cleanings and examinations at your dentist's office on a semiannual basis. These visits can protect you against harm, and make it easier for you to avoid a situation where a cavity remains undetected until it grows to be a a serious smile threat.
Talk To Contemporary Dental And Orthodontics About A CEREC Crown
Contemporary Dental And Orthodontics is ready to help you restore your smile with a CEREC dental crown! Our practice offers these modern crowns as a convenient, and attractive, solution to issues with tooth decay and dental damage. This is just one example of how we are committed to providing superior treatment to Bellaire, TX families. To schedule an appointment, contact Contemporary Dental And Orthodontics by calling 713-668-9119.