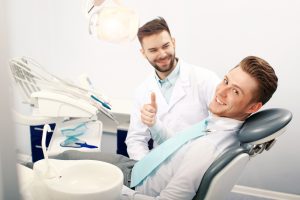 You receive more than just protection for your teeth when you stay consistent with preventive dental exams. At our Bellaire, TX dental office, we recognize the importance of keeping your periodontal tissues healthy. Without proper care, gum disease can become a big problem, and difficult to treat if an infection progresses to a more advanced stage. The routine services we provide can help you keep your gum line free of harmful plaque and tartar, which will reduce your risk for developing gingivitis. If you already show signs of periodontal trouble, we can perform a scaling and root planing to direct attention to the area below your gum line, where bacteria can create issues for you.
Your Gum Health Is Important For Your Smile, And Your Well-Being
How many teeth would you like to lose over the course of your life? It seems like the obvious answer is "zero," but people behave in ways that can increase their risk for tooth loss! The biggest threat to your complete smile is gum disease, as complications from this problem lead all other causes when it comes to missing teeth. Pay attention to your smile, and look for any signs of gingivitis. These signs include swelling of your periodontal tissues, bleeding, and redness. You may also notice that your gum line has started to recede. Acting quickly when these signs appear can help you stop gingivitis before your condition worsens!
What Can Your Dentist Do To Help You Manage Your Periodontal Health?
Every routine dental cleaning can provide important protection for your smile, as your hygienist carefully clears away all deposits of plaque, tartar, and other harmful debris. By going through this cleaning, you receive important protection against a possible problem like tooth decay or gum disease. In the event that your dentist sees that you have problems with your gums, a scaling and root planing can be arranged. During this process, the portions of your teeth below your gum line are thoroughly cleaned, and specially treated so bacteria will have a more difficult time accumulating in the future.
Addressing A Receding Gum Line With A Gum Grafting Treatment
If your gum line starts to recede, your smile can be negatively affected. This problem can also expose portions of your teeth that are more sensitive, which can lead to discomfort. A gum grafting procedure can restore your gum line, and improve your smile. This procedure can also be performed as part of a larger plan to address advanced periodontal disease.
Talk To Contemporary Dental And Orthodontics About Your Gum Health
Your gum health can play an important part in your overall health, and the condition of your smile. You can count on great periodontal care, as well as great dental care, when you schedule treatment at Contemporary Dental And Orthodontics! To find out more about how we can help you, you can reach our Bellaire, TX dental practice by calling 713-668-9119.