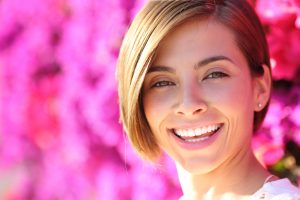 Because your dental crown needs to stay in place for many years, even as it absorbs biting and chewing pressures, a custom fit over your tooth is highly important. If the crown is too loose, it can become a problem over time, and it may make you uncomfortable. If the crown is too large or too small, it can create discomfort that affects your quality of life. Your Bellaire, TX dentist's office relies on modern CAD/CAM technology to create custom CEREC crowns. These crowns are designed based on digital measurements and designs to provide the ideal fit.
We Can Design And Create Your CEREC Crown In One Visit
With the modern technology that is available at your dentist's office, custom crowns can actually be ready for you after just one appointment! To make this possible, sophisticated technology is used in order to take measurements of your tooth, design your restoration, and produce it with a milling machine located at our practice. Once it is ready, the crown can be placed. Because everything needed to complete the process is available at our practice, you can have your crown after just one appointment!
The Right Crown Is Important For Your Smile, And Your Dental Function
Modern CEREC crowns are meant to protect vulnerable teeth, but they are also useful for preserving a person's smile! This is because the ceramic crown used in their construction is durable, but also impressively lifelike. Because the material can so closely match your enamel, you can count on it for cosmetic support when you smile, and restorative dental support when you bite, chew, speak, and laugh.
Making Sure You Avoid Problems That Require Restorative Work In The Future
Because CEREC crowns are convenient and attractive, patients can have better experiences with cavity treatment. While this can be reassuring, keeping up your defense against decay is still certainly important, and something to make a priority. If you are worried that you are doing an ineffective job at defending your teeth against decay, you can have your oral health reviewed at a routine dental checkup and cleaning. By keeping up with these visits on a semiannual basis, you can be sure that your oral health is enjoying consistent support!
Talk To Contemporary Dental And Orthodontics About Receiving A Custom Dental Crown
Contemporary Dental And Orthodontics can offer patients attractive and durable CEREC dental crowns! These restorations are remarkably lifelike, they can be custom-made to fit your tooth, and they can fit in with your smile without any cosmetic concerns. This is one of many modern services that our practice can provide to families in and around Bellaire, TX, and the larger Houston metro area. If you would like to learn more about what we can do for you, contact Contemporary Dental And Orthodontics in Bellaire, TX by calling 713-668-9119.