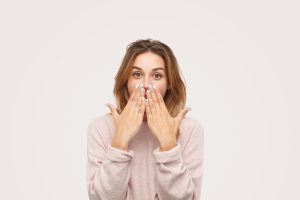 Are you starting to feel less than impressed with the smile that greets you in the mirror? Are you having a difficult time with the way discoloration has impacted your appearance, and your confidence? If dental discoloration is becoming an issue for you, our Bellaire, TX dental practice can help you make improvements. Accumulated stains in your enamel can change the color of your teeth for the worse, leaving them dull, and less attractive. With a professional whitening procedure, we can take care of those stains, and give you a valued confidence boost. We also have additional cosmetic dental treatments that we offer, so we can make sure your smile changes cover every concern you have about the way you look.
Dental Discoloration Can Make You Unhappy With Your Overall Appearance
Dental discoloration can happen at different rates for different people. Some people simply enjoy more products like coffee, and cigarettes, that leave stains behind. Others simply have enamel that particles can stick to more easily, leading to more troubles. Even if you are doing a good job of preventing cavities from forming on any of your teeth,  you may have noticed that your teeth are starting to lose their whiteness. Because store bought products can be less effective at removing stains that are below the surface of your tooth structure, it can be hard to see the results you want from them.
Using A Teeth Whitening Treatment To Fight A Buildup Of Stains
By opting for an in-office whitening procedure, or by taking home a whitening kit that is available at your dentist's office, you can fight back against dental discoloration. Both of these options are effective, thanks to potent bleaching agents that your dentist can offer. While these agents are safe, their greater strength can ensure more stains are lifted during your treatment. With a take-home kit, you receive instructions, and custom whitening trays that make the process easier to follow. During an in-office procedure, your dentist will employ a special light to speed up the effects of the whitening agents, so your results can be achieved in little more than one hour!
Other Treatment Options That Can Boost Your Confidence In Your Smile
If discoloration is just one concern out of several when it comes to your smile, you might be interested in learning what else our practice can do for your appearance. In addition to brightening teeth with whitening agents, we can cover up flaws with the shape and size of teeth by offering porcelain veneers. If your gum tissues are attracting unwanted attention when you smile, or if they make your teeth look too small, you might want to make time to talk about the changes that are possible through gum contouring.
Talk To Contemporary Dental And Orthodontics If You Are Worried About Dental Discoloration
Contemporary Dental And Orthodontics is ready to help people in and around Bellaire, TX who want to do something about dental discoloration! Our practice offers several cosmetic dental procedures, in addition to providing important oral health care. To find out more, you can reach our Bellaire dental practice by calling 713-668-9119.