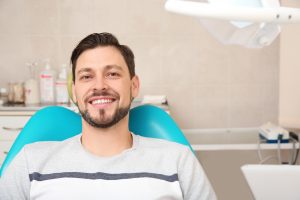 When you want to do something about issues with poor dental alignment, you should know that you can ask your Bellaire, TX dental and orthodontic office about more than just traditional metal braces. For many people over the years, this conventional approach to orthodontic improvement has offered great results. However, people sometimes worry about how much attention they might receive for their conspicuous appliance, particularly in social outings, and professional settings. Fortunately, lingual braces can be offered up as an exciting alternative for your orthodontic treatment. Instead of being placed on the front of your teeth, lingual braces are placed on the back, making them significantly more difficult to notice.
What Are Lingual Braces?
Lingual braces, like metal braces, use brackets and wires to gradually move your teeth from their current positions, to their optimal places. Lingual braces stand apart from traditional braces because instead of being located on the front of your teeth, they are put in place on the back. This makes them considerably harder for people to notice, so you can feel that you have less attention on you as you go through the process of fixing issues like gaps, overlaps, and other problems with poor dental alignment.
Using Orthodontic Work To Improve Your Smile
During any orthodontic treatment, the goal is clear – bring your teeth from where they currently reside, to where they should reside. The first step in your adjustment will simply be to select the right appliance for you – in addition to traditional and lingual braces, you also have the option of using clear aligners. Once the process starts, you will have your teeth gradually moved into their ideal places. At scheduled check-ins, your movement can be reviewed, and any manual adjustments that might be needed can be performed. It is important to continue to keep up with effective preventive dental care during your adjustment – if you have questions about how to best care for your teeth during your treatment, your dentist can offer expert tips based on your individual needs.
A Straightened Smile Can Also Benefit Your Oral Health
What you should know is that straightening your smile is good for more than just improving the appearance of your smile. By correcting gaps and overlaps, you can potentially improve your bite function, which will make it easier for you to maintain a healthy smile over the years. Better spacing for overlapping teeth can also be important, as those overlaps can make it harder for you to defend yourself against plaque buildup, which would raise your risk for tooth decay.
Contemporary Dental And Orthodontics Can Provide Smile Improvements With Lingual Braces!
Contemporary Dental And Orthodontics is ready to offer great orthodontic improvements with lingual braces! We are proud to make this and other services available to those in Bellaire, TX who want to make real changes to their appearance and oral health. To learn more about what we can do for you, please contact Contemporary Dental And Orthodontics in Bellaire, TX by calling 713-668-9119.