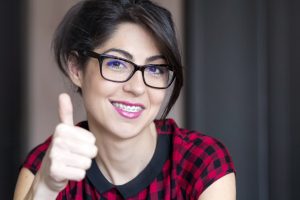 Is the process of straightening your teeth all about improving your smile, or is there more to orthodontic work than just cosmetic benefits? During a consultation with your Bellaire, TX dentist, you can learn how addressing malocclusion can help you improve your oral health. After you correct problems with poor dental alignment, you can improve your bite function, and reduce your vulnerability to problems like tooth decay and gum disease. We are ready to meet with you and discuss your treatment options. In addition to offering orthodontic work with traditional braces, we can also provide you with clear aligners to correct your smile.
Receiving Braces Can Help More Than Just Your Smile
Braces offer more than just a chance to improve your smile. Obviously, there is a big cosmetic benefit to correcting malocclusion, as you can show off a set of teeth that appear healthier and more symmetrical. With that said, you can also address problems with your bite related to poor dental alignment. People with crooked teeth can have issues because they overuse certain teeth, or because they have to use an awkward bite motion that increases their risk for TMJ dysfunction. You can also straighten teeth that overlap, which can make it easier to fight a buildup of plaque and tartar.
Starting Your Orthodontic Treatment
Your experience with orthodontic treatment can vary based on the appliance you use. However, you can expect support, and great results, from any treatment option you select. Traditional braces can help make more significant corrections by pulling your teeth into their proper places. If you want to make this procedure less noticeable, you can ask about lingual braces, which are placed on the back of your teeth. You can also ask about clear aligners. A sequence of clear oral appliances will be provided to you, which you can use to gradually shift your teeth into their proper places.
Keeping Up With Smile Care After You Undergo Orthodontic Work
Our practice can do more than just straighten your teeth – we can also help you prevent dental problems before, during, and after your adjustment. If you want to keep your smile in the best possible shape after your adjustment is concluded, make sure you schedule regular dental exams. At these visits, your dentist can check on your straightened teeth, and make sure they are free of problems like tooth decay. These visits also allow your dentist to do a thorough review of your oral health to determine if anything else might need to be addressed.
Contemporary Dental And Orthodontics Is Ready To Provide Great Orthodontic Work!
Contemporary Dental And Orthodontics is proud to offer ongoing oral health care, and specialized orthodontic treatment! If you have questions, or if you would like to schedule a consultation, you can do so by calling Contemporary Dental in Bellaire, TX, today at 713-668-9119.