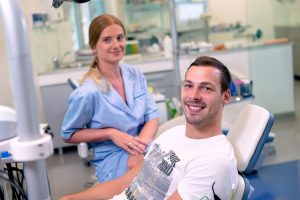 You may be well aware of how a cavity's effect on your tooth is permanent, but you might not realize just how harmful decay can be if it is not properly addressed. Your tooth structure can be seriously impaired, which can leave you at risk for biting troubles, and future infections. When the damage to your tooth structure is more than a dental filling can properly address, your Bellaire, TX dentist can provide you with a modern, one-visit dental crown. Our CEREC crown completely covers your tooth, so it is fully protected against new infections, and also supported for better biting and chewing. You can be happy to know that because a lifelike ceramic material is used to make these crowns, your smile can also be expertly preserved.
Your Crown Can Keep Your Smile Protected After Tooth Decay
Losing the ability to put full biting and chewing pressure on even one tooth can be a big issue for you. That change to the way you approach your basic dental function can lead to more wear and tear on other teeth, and it can lead to problems that cause you to suffer the daily discomforts associated with TMJ dysfunction. Your dental crown is meant to keep your tooth protected, so that you can bite and chew comfortably. Of course, you can also worry about the effect a serious cavity might have on the way you look. You can feel comforted knowing that when we provide you with a CEREC crown, we can make sure your smile still looks natural.
Your CEREC Crown Is Ready In Just One Appointment!
CEREC crowns, like other crowns made in third party labs, can preserve both your tooth structure, and your appearance. So what makes CEREC crowns worth your attention? All of the necessary tools needed to produce these crowns are available at your dentist's office, so you can have your work completed in less time! In one visit, your dentist able to measure your tooth, design your crown, and have your restoration made in our in-office milling machine.
Want To Avoid Future Cavities? These Tips Can Help
If you are not keeping up with regular dental exams, you can be at a greater risk for cavities, while also being more likely to overlook a cavity until a dental crown is needed. These visits provide great feedback about your oral health, and lead to professional cleanings that can remove stubborn tartar. In between every appointment, remember that your diet AND your cleaning habits are important to managing your risk for tooth decay.
Talk To Contemporary Dental And Orthodontics About Receiving A Dental Crown
A dental crown provided by Contemporary Dental And Orthodontics can be attractive and durable. It can also be convenient, as our practice can produce CEREC crowns for you in the span of just one appointment! If you wish to schedule a consultation, you can reach Contemporary Dental in Bellaire, TX, today at 713-668-9119.