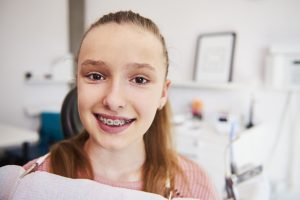 While some kids will have no issues with poor dental alignment, many young people will go through a period of orthodontic work. If your child shows signs of malocclusion, your Bellaire, TX dentist can talk to you about arranging the appropriate care. Our practice provides different treatment options for patients that can suit their needs. Those options include clear aligners, which can allow teens who qualify to correct their problems with discreet appliances. In some cases, we can even talk to you about using early orthodontic work to address issues your young child exhibits. This can make later orthodontic work easier on them when they are older.
Pediatric Exams Allow Your Dentist To Monitor A Child's Growing Smile
While you can observe problems with crooked teeth in your child's smile, your dentist can give you expert feedback about the development of their oral structures. As your child grows, continued pediatric dental exams allow your dentist to chart their development, and bring any concerns to your attention. With this information, you can count on starting orthodontic treatment at the most advantageous time.
Orthodontic Adjustments Do More Than Just Improve A Patient's Appearance
By making sure your child's teeth are straight, you are offering them more than just a better smile to show off later in life. Correcting gaps and overlaps can improve their bite function, which can help protect them against future problems like TMJ dysfunction. Straightening their teeth can also make it easier to protect their smiles from tooth decay and gum disease.
Should Your Child Receive Early Orthodontic Treatment?
While orthodontic work can seem like a normal part of a tween's or teen's passage into adulthood, some kids can benefit from orthodontic treatment at an earlier age. Based on the development of their oral structures, your dentist may recommend early orthodontic treatment for your child. This will not be the only orthodontic work they receive, but an early step to limit the degree of malocclusion they might experience. When this step is taken, it can make orthodontic work in later life easier.
Talk To Contemporary Dental And Orthodontics About Starting Orthodontic Treatment For Your Kids
Many kids and teens can benefit from some degree of orthodontic adjustment. Contemporary Dental And Orthodontics can alert you to your child's need for this work, and provide them with a quality treatment experience. Our practice is proud to make excellent pediatric care available to families in and around Bellaire, TX. In addition to addressing problems with malocclusion, we can help kids learn the importance of smart oral care. We are also ready to help adults take on matters concerning their oral health, and the look of their smiles! If you would like to learn more, schedule a consultation by calling Contemporary Dental in Bellaire, TX, today at 713-668-9119.