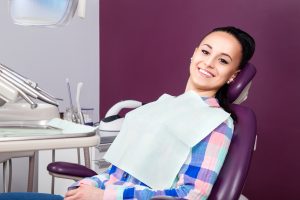 For a dental crown to offer the best experience possible, it should be perfectly sized for your tooth. To make sure that your crown provides you with such an exact fit, your Bellaire, TX dentist uses digital technology located in the office to measure it. This is one of the first steps in a larger plan to provide a tooth with a lifelike restoration. While other practices can take measurements in the office as well, we can use the information to digitally design, and produce, your crown on site! This means that you can have your restorative dental work done in less time, and enjoy valuable protection for a vulnerable tooth.
Using Modern Tools To Plan Your Custom Dental Crown
Modern digital technology allows your dentist to plan a crown based on precise measurements of your tooth. When you arrive needing a restoration, your dentist will use CAD/CAM technology to gather the necessary data, and create a design for your custom crown. Once this information is all taken, the next step will be to have a ceramic restoration produced in our office! These CEREC crowns eliminate the awkward waiting period that patients have to go through when they are trying to complete work to repair a tooth affected by an advanced cavity, or physical trauma.
Enjoying Restorative Care Without A Frustrating Delay
When your tooth is vulnerable, it can be more difficult to bite and chew without discomfort. While temporary crowns are available to provide some protection for teeth that are in need of permanent support, you can feel bothered by its imprecise fit. Cutting away the waiting period from the process of restoring your tooth means you can feel better about your dental function, and your smile, in less time!
What Else Can You Expect From Access To Modern Dental Work?
Our practice is committed to making sure patients have a positive experience whenever they arrive. That starts with making sure people feel comfortable throughout their dental care experience. It also means ensuring that people can look forward to quality treatment that relies on modern tools and techniques. In addition to receiving one-visit crowns, patients can look forward to modern cosmetic dental work, and the use of discreet clear aligners to make orthodontic improvements!
Contemporary Dental And Orthodontics Is Ready To Design Your In-Office Dental Crown
Contemporary Dental And Orthodontics is ready to help patients feel secure in the knowledge that their vulnerable tooth is completely protected. During restorative care, you can have a custom crown planned, designed, and produced in the span of a single visit! This is one of many efforts we make to ensure that Bellaire, TX residents have access to terrific oral health support. To find out more about us, schedule a consultation by calling Contemporary Dental in Bellaire, TX, today at 713-668-9119.