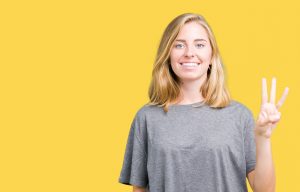 When you receive a dental crown, you can understandably wonder what, exactly, you can count on that crown to do. Is it safe to put your full bite pressure on this restoration? Will it look anything like a natural tooth? How long will its support last? Your Bellaire, TX dentist can provide an attractive, durable crown that serves your daily needs, and addresses common concerns. Because our practice crafts crowns using CEREC technology, you can enjoy an added benefit – your crown can be ready after just one appointment! This means no waiting for your tooth's restoration, and no relying on a temporary crown that can be uncomfortable, or offer insufficient support.
1. Functional Support That Makes Biting And Chewing Easier
Your CEREC crown is conveniently crafted with our in-office milling machine. While this can cut down on your waiting period, you can still feel confident in the protection your tooth provides. This is because these crowns are made with durable dental ceramic. Once placed, your crown will provide a comfortable fit, and the kind of sturdiness that allows you to bite and chew like normal. This is particularly important, because the goal of restorative dental work is to protect your smile while also allowing you to practice normal dental functions.
2. An Attractive Appearance
Your ceramic crown will be crafted based on a design that comes from a careful measuring of your tooth. Once placed, that crown can match the look of your neighboring teeth, while also being an ideal fit. Your dentist can do more than just make sure the crown looks like dental enamel, as it can also be tinted to match the color of neighboring teeth! While this work may be focused on improving your oral health, you can also see real cosmetic dental benefits from a CEREC crown.
3. Long-Term Protection For Your Tooth After Just One Appointment
In the course of a single visit, you can enjoy protection that will last for many years. While a lab-made crown can offer durability and an attractive appearance, a crown made at your dentist's office can make these benefits available to you without a frustrating wait. This can be especially welcome news if you are trying to have your dental work done in time for an important event, or if you want prompt care after a dental emergency.
Talk To Contemporary Dental And Orthodontics About Receiving A CEREC Crown
Contemporary Dental And Orthodontics is ready to help you restore your smile with a CEREC crown! Our practice uses this modern technology to make quality care more convenient to families in and around the Bellaire, TX area, and the larger Houston metro area. You can schedule a consultation by calling Contemporary Dental in Bellaire, TX, today at 713-668-9119.