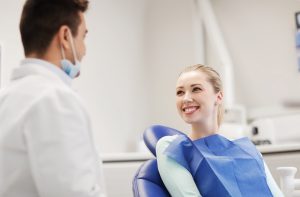 The symptoms of gingivitis, the early stage of a periodontal infection, can be uncomfortable. Your gums can look swollen, and bleed easily. You can also develop an embarrassing problem with chronic bad breath that makes you eager for treatment. What you should be aware of is that if nothing is done about your periodontal infection in time, the problem can grow more significant, and more alarming. Gum disease in its advanced stage can cause the destruction of tissues supporting your teeth, which can result in tooth loss. Your Bellaire, TX dentist's office is ready to help you combat periodontal problems, and avoid the unpleasant effects of poor gum health.
You Can Check For Signs Of Poor Periodontal Health
When you brush and floss your teeth, take a look at your smile in the mirror. While gum disease may not cause pain, it can cause symptoms that are recognizable. If you see that your gums look swollen or red, or if they tend to bleed after you clean your teeth, you should take note. These issues, along with gum line recession and halitosis, are symptoms of gum disease. While your dentist is able to identify these symptoms during a regular dental checkup, you should not ignore the problem until your next appointment.
Arranging Gum Disease Treatment With Your Dentist
A professional periodontal treatment is something your dentist can offer if you need to put an end to troubles with gingivitis. This procedure, known as a scaling and root planing, will take care of the bacteria under your gum line that cause your infection. As part of the overall treatment, your dentist will perform work on your teeth below your gum line to make it harder for bacteria to gather in the future. If your periodontal problems have already led to issues with gum line recession, your dentist can discuss a solution in the form of a gum grafting treatment.
Ignoring Gum Disease Can Eventually Lead To Trouble
Eventually, gingivitis will turn into periodontitis, which creates a serious risk for tooth loss. If you act in time, you can receive treatment that will stop gingivitis, and return your gums to good health. If you have already developed problems with periodontitis, your dentist can work with you to manage your condition. If necessary, you can also arrange prosthetic dental work to address tooth loss.
Talk To Contemporary Dental And Orthodontics About Addressing Gum Disease
Contemporary Dental And Orthodontics can help you take on issues with gum disease when they arise. Our practice can also provide important preventive dental services that help you avoid this issue. We are proud to make these services available to the Bellaire, TX community, and to the larger Houston area. If you would like to learn more, you can do so by calling Contemporary Dental in Bellaire, TX, today at 713-668-9119.