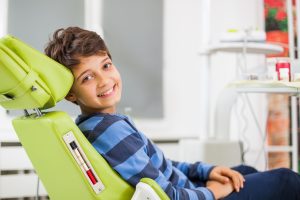 People begin the process of straightening their teeth through orthodontic work at different times in their lives. While braces are often associated with teenagers, many individuals will not seek out an adjustment until they are adults. What you might not realize is that sometimes, there are benefits to starting orthodontic work at an unusually young age. There are occasions where children can benefit from early orthodontic work, which can make straightening their smile more manageable at a later date. If you are keeping up with pediatric dental care, your dentist can let you know if this is recommended for your child. Your Bellaire, TX dentist is prepared to take on orthodontic care for people in varying circumstances, and with several approaches to orthodontic treatment.
Why Is Early Orthodontic Treatment Sometimes Recommended?
Early orthodontic treatment is not just a matter of starting corrective work at an unusually early age. When it is suggested, it is meant as a way to make orthodontic work at a typical age more manageable. In other words, this can be recommended if a child shows early signs of malocclusion that may become more difficult to address as they age.
Orthodontic Work Is About More Than Just Improving A Person's Smile
Orthodontic treatment is not just a cosmetic dental service, though the change to a person's smile can certainly be attractive. When a person's teeth are corrected for problems with gaps, overlaps, and other alignment flaws, it can improve their bite, as well as their ability to fight cavities. You may not realize just how important dental alignment is to a person's bite function. Someone with crooked teeth can place more stress on their jaw joints and muscles to bite and chew, which can increase their risk for TMJ dysfunction. Overlapping teeth can be harder for an individual to clean effectively, which – in essence – can mean that these overlaps become an easy gathering place for oral bacteria.
Keep Up With Your Child's Oral Health Needs By Scheduling Regular Pediatric Exams
If you want to keep up with your child's pediatric dental needs, make sure they are receiving regular checkups. Starting these visits at an early age means you can receive regular updates about their oral health. Your dentist is able to chart the development of your child's oral structures, so concerns about malocclusion, and other issues, can be addressed before they create difficulties later in life.
Talk To Contemporary Dental And Orthodontics About Early Orthodontic Treatment
For young patients who can benefit from it, early orthodontic treatment can offer important support. Contemporary Dental And Orthodontics is ready to offer a range of orthodontic services to individuals in and around the Bellaire, TX community, and those in the larger Houston metro area. If you have questions about this, or any other oral health service, schedule a consultation by calling Contemporary Dental in Bellaire, TX, today at 713-668-9119.