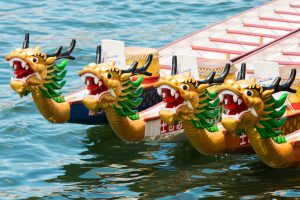 On Saturday, May 4, you and your family can check out Houston's annual Dragon Boat Festival! Spectators can come out to downtown Houston and watch a number of rowers take to the Buffalo Bayou in their custom boats. More than thirty groups will have boats on the water this year, with each craft decorated to show tribute to Asian and Asian-American culture. When you want to relax, your idea of a good time might be floating on a large body of water. Did you know that water also has a role to play in keeping your smile healthy? Drinking water instead of flavored beverages can cut back on your sugar intake, and staying hydrated can help you naturally fight tooth decay. Your Bellaire, TX dentist's office is ready to help you and your family maintain healthy smiles by providing smart tips, and important oral health services during regular dental exams.
When:
The Houston Dragon Boat festival is taking place on Saturday, May 4. The events are scheduled to run from 8:30 am until 4:30 pm.
Where:
Spectators are encouraged to gather at Allen's Landing in downtown Houston.
Cost:
There is no cost required for watching the Dragon Boat Festival!
Activities Include:
You and your family can go to downtown Houston and watch various teams show off impressive custom crafts in this special celebration of Asian and Asian-American culture!
For More Information:
For more information about this event, click here.
Schedule Your Next Dental Exam At Contemporary Dental And Orthodontics
At Contemporary Dental And Orthodontics, families are provided quality smile care during every appointment! In addition to helping you manage the health of your smile, our practice can handle important services to address issues that might interfere with your oral health. You can schedule a consultation by calling Contemporary Dental in Bellaire, TX, today at 713-668-9119.