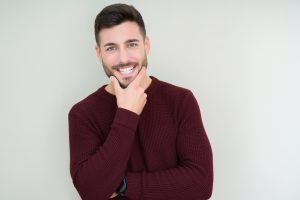 Large and small changes can take place over time that affect your smile. Some of those changes can be memorable, and unpleasant – for instance, you can recall the discomfort you experienced upon chipping a tooth. Other changes can take place gradually, and may be hard to notice until they become significant. This could be a slow buildup of wear and tear, or an accumulation of stains in your enamel. Your Bellaire, TX dentist is ready to help you if you are interested in addressing these frustrating problems. Thanks to porcelain veneers, it is possible to make a remarkable difference in how you look with a single cosmetic dental procedure!
What Kind Of Problems Are Veneers Capable Of Addressing?
Veneers are capable of hiding any superficial flaws that affect the way your teeth look. This can mean fixing problems with dental discoloration. While some people focus on this concern by undergoing a professional whitening treatment, there are cases where veneers might be more effective. This can be particularly true when someone shows signs of intrinsic discoloration, or a problem within a tooth that makes it appear dull, or discolored. Your veneers are also effective at hiding chips or cracks, and the wear and tear that gradually makes a tooth look misshapen.
It should be noted that an alternative approach to veneer placement can be recommended if you have teeth that are weakened to the point of needing functional support. A lifelike dental crown can change a tooth's appearance for the better, while also making it easier for you to bite and chew food.
Undergoing The Placement Of Your Veneers
What kind of experience can you expect while you go through the process of receiving porcelain veneers? The first step will focus on making sure your veneers look right, and provide effective improvements. Your dentist has to measure your teeth carefully, to make sure your cosmetic restorations are a proper fit. You can also receive work to make space for your veneers, and to ensure they can be firmly set on the front of your teeth. Once your custom veneers are ready, you can return to have them permanently affixed to your smile. Once this is completed, you can show off your great smile improvements!
Is This The Right Time To Look Into Cosmetic Dental Work?
If you feel self-conscious about your smile, this can be a great time to look into cosmetic dental work! Because you can make so many changes with a single procedure, you can be excited to see meaningful changes in relatively little time. People can be excited to learn that cosmetic changes can be easier to fit in before an event than they expect.
Talk To Contemporary Dental And Orthodontics About Porcelain Veneers
Porcelain veneers from Contemporary Dental And Orthodontics can make a terrific change to your smile! We are proud to provide this, and other cosmetic services, to individuals in and around Bellaire, TX. To schedule an appointment, call Contemporary Dental And Orthodontics office in Bellaire, TX, today at 713-668-9119.