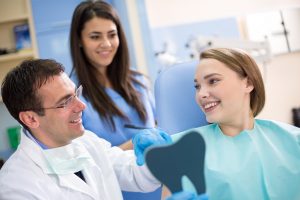 Gum disease may be affecting you right now, even if you are not experiencing obvious discomfort. That does not mean you have no way of noticing the signs of an infection. You may see that your gums look swollen, or unusually red. You may also see that your gum line has receded. If you think something may be wrong with your periodontal health, you should seek a remedy. Ignoring an infection can lead to lasting consequences, as advanced gum disease can be difficult to manage, and it can damage the tissues supporting teeth. Your Bellaire, TX dentist is ready to help you fight the effects of gum disease.
Steps You Can Take To Prevent Gum Disease
An infection in your periodontal tissues can result when you allow oral bacteria to accumulate at your gum line. To stop this from taking place, you should practice smart preventive oral care strategies. Your approach should include both brushing and flossing. Brushing your teeth at least twice a day can help you fight off the accumulation of plaque forming on your teeth, and at your gum line. Flossing will also protect you, particularly those spaces between your teeth. These areas are difficult to address when you only brush, as the bristles of your brush can have a difficult time properly cleaning between your teeth.
If you want to prevent gingivitis, the early stage of gum disease, from progressing, your dentist can help. A scaling and root planing will take care of bacteria that have built up below your gum line, to reverse your condition and return your periodontal health to good standing.
Arranging Treatment For Gum Recession
What can you do if your gum line has already receded because of periodontal troubles? Patients with this problem can benefit from a gum graft, which helps to restore tissues impacted by an infection. Biocompatible tissues will be placed in areas where recession has occurred. This can make your smile more attractive, and it can lead to a more comfortable experience, as your receded tissues can expose sensitive portions of your teeth.
Gum Contouring Can Offer Exciting Cosmetic Improvements
Some periodontal issues can cause cosmetic smile concerns. Fortunately, your dentist is ready to provide positive changes through gum contouring. This work helps people who have bulky, uneven periodontal tissues. Through careful work, your dentist can make your gums less bulky, and give you a more symmetrical smile.
Contemporary Dental And Orthodontics Can Help You Deal With Periodontal Troubles
Contemporary Dental And Orthodontics can help you deal with the periodontal troubles that impact your life, and your oral health! We are proud to make quality smile care available to those in and around the Bellaire, TX area! You can arrange your visit by calling Contemporary Dental in Bellaire, TX, today at 713-668-9119.