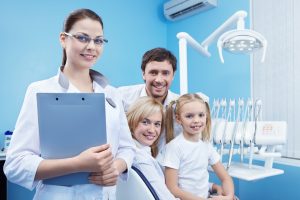 How much attention are you currently paying to oral health matters? For parents, the question can express an interest in more than just what they are doing for their own teeth. After all, once your child's teeth begin arriving, you need to be aware that oral health threats can affect them. Even if a young child's first set of teeth are temporary, there are real problems that can affect them. Your Bellaire, TX dentist's office is ready to work with you during routine dental exams, and we are ready to greet kids in need of pediatric dental care. 
Are Your Kids Enjoying Quality Smile Care?
What is involved in a child's dental visits? At their first visit, which should occur around the time they turn one, or when their first tooth arrives, the visit can be more about a warm welcome than conventional oral care. Once they are ready to begin routine pediatric dental care, your child will receive the kind of dedicated reviews and dental cleanings that help adult patients. However, they also enjoy support through helpful instructions on better smile care practices at home. These instructions can give kids a better grasp on what they should do while brushing and flossing, which can make them less likely to develop cavities.
Scheduling Your Own Dental Appointments
Pediatric dental care can provide many benefits that you are sure to appreciate. You can keep your child's smile in the best possible shape, and enjoy early warnings about developmental issues that require attention. For instance, because your dentist can monitor the way your child's smile is developing, they can talk to you about whether orthodontic care is needed, or when the right time to start that care might be. Of course, a fully developed smile also benefits from preventive dental care in important ways. You can better defend yourself against problems like tooth decay and gum disease when you are regularly having your teeth cleaned and studied. You can also show your kids that oral care matters by making sure you are paying attention to your own smile needs.
Make Sure Everyone Enjoys Important Smile Care At Home, Too
Remember that oral health care is not just about brushing and flossing. Providing healthier meals at breakfast and dinner, and packing healthy lunches for school-aged children, can help everyone avoid cavity troubles. When your kids first start brushing and flossing on their own, invite them to join you (or join them) and model thorough brushing and flossing behaviors.
Contemporary Dental And Orthodontics Can Offer Quality Smile Care For Everyone In Your Family
At Contemporary Dental And Orthodontics, patients of all ages are able to enjoy great access to important smile care. Our Bellaire, TX practice is proud to make valuable oral health services available to area families. To learn more, schedule a consultation by calling Contemporary Dental in Bellaire, TX, today at 713-668-9119.