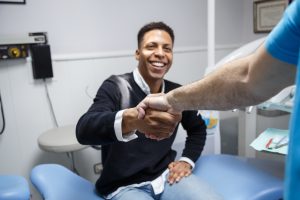 You may not realize how important your periodontal health can be to your overall well-being. Gum disease can affect your ability to manage diabetes, and links have been identified between this issue, and alarming issues like Alzheimer's, and cardiovascular health. Fortunately, you can take care of your gums with proper oral hygiene. Keeping your teeth clean, particularly at your gum line, can protect you against a periodontal infection. If an infection does occur, your Bellaire, TX dentist can offer a scaling and root planing. This procedure can protect you by removing harmful agents that have traveled below your gum line.
Untreated Gum Disease Can Have Serious Consequences
Early signs of gum disease like bleeding, swollen, or reddened tissues can indicate a problem that should be treated. If too much time passes without a periodontal issue being managed, the condition can worsen. Advanced gum disease, known as periodontitis, threatens your smile, and your overall health. People who develop advanced gum disease can have a harder time avoiding tooth loss later in life, as the condition can lead to the damage of tissues that support teeth. There are also other health issues that can be harder to manage, or harder to avoid, if you neglect proper gum care.
A Scaling And Root Planing Can Stop Gum Disease From Progressing
If you need treatment for an active case of gum disease, your dentist can recommend a scaling and root planing. A scaling and root planing offers two forms of support. The first measure is about clearing away oral bacteria that have built up on your teeth below your gum line. After this is addressed, the surfaces of your teeth can be smoothed so that oral bacteria will have a harder time gathering in the future.
In some cases, patients can show signs of gum disease in the form of a noticeably recessed gum line. A gum grafting treatment can help you address the cosmetic effect of this problem on your smile. This can also be done as part of a larger effort to help you battle advanced gum disease.
Tips For Protecting Your Gums Against Infections
One thing you certainly want to do if you have concerns about gum disease is keep up with regular dental checkups. These appointments allow your dentist to check on your gums. They also involve a thorough cleaning of your teeth, so that harmful agents are removed before they can do harm to your smile. When you brush and floss at home, pay attention to the motions you use – you should consistently address your gum line to protect yourself properly.
Talk To Contemporary Dental And Orthodontics About Periodontal Health Care
Contemporary Dental And Orthodontics proudly offers a variety of valuable smile services to individuals in, and surrounding, the Bellaire, TX area, including Houston. If you are concerned about gum disease, or any other oral health condition, you can schedule a consultation by calling Contemporary Dental in Bellaire, TX, today at 713-668-9119.