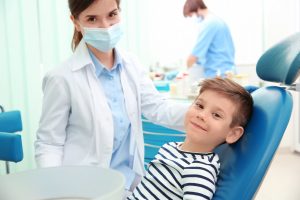 As your child grows, what they need from you can change dramatically. Some of those changes can be obvious, but you may be less clear on some matters. For instance, you can be well aware that your child's first set of teeth will be replaced over the course of their childhood, but less sure of how that affects what they need from their dentist. Your Bellaire, TX dentist's office is ready to help young children who are still learning about oral health matters, and older children who – like their parents – can benefit from support in the fight against cavities and gum disease. 
Easing Your Young Child Into Regular Dental Exams
The first visit a child makes to the dentist may look nothing like the kind of care you receive during a routine dental checkup. This is because the goal is to make them feel at east in the dentist's chair, and with the idea of seeing their dentist. This appointment, which can take place after their first tooth arrives, or after they turn one, also gives your dentist a chance to look over their oral structures in case there are issues to address. Routine visits can typically start when a child turns three.
Taking Extra Steps To Protect Kids From Cavities
Young children can be less clear on what they need to do to keep their teeth healthy. Fortunately, your dentist can walk them through the steps they can take at home to avoid problems like tooth decay. To further protect them, your dentist can offer fluoride treatments and dental sealants at the appropriate times.
Fluoride treatments can help your child's enamel stay strong, and be more resistant to tooth decay. Fluoride is a safe mineral that can often be found in tap water.
Dental sealants act like a barrier to keep out harmful agents. Oral bacteria and food debris can be separated from your child's enamel by a thin, invisible acrylic material coated on their teeth.
Will My Child Need Orthodontic Work?
Your dentist can monitor the growth and development of your child's smile, so any problems can be identified in their early stages. In some cases, a child's teeth will show signs that suggest early orthodontic care might benefit them. Your dentist can talk to you if this is necessary, or recommend traditional orthodontic care at the right time.
Contemporary Dental And Orthodontics Is Ready To Welcome Your Child For Quality Smile Care
At Contemporary Dental And Orthodontics, patients of all ages in and around Bellaire, TX can receive quality support at every appointment! Our practice is proud to offer dedicated preventive smile care, and we can provide treatment if you develop For more information, schedule a consultation by calling Contemporary Dental in Bellaire, TX, today at 713-668-9119. issues that need attention.