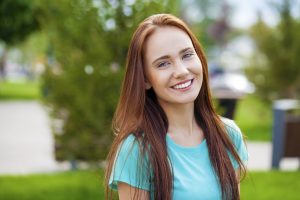 So you take the time to seek out a whitening treatment at the nearby pharmacy, or your grocery store, and you try to address the stains that have gathered in your enamel. What kind of results should you expect? If your interest is in making noticeable changes, you may be disappointed to find that your store bought product only offered limited results. Fortunately, you can talk to your Bellaire, TX dentist about addressing teeth stains with a professional whitening procedure. You can actually choose whether your treatment is done in the office, or handled at home – both can lead to great results!
Making Plans To Make Your Smile Whiter
Creating a plan to whiten your smile can lead to impressive results. You can make arrangements to have the procedure done at your dentist's office. Your in-office procedure can lead to prominent results after just over an hour, and give you a smile free of bothersome stains. You also have the ability to change your smile over the course of daily at-home treatments. The process under this system can take around ten days, but it can lead to results that line up with the changes made by in-office work.
Changing Your Habits To Avoid Future Stains
If you want to control your accumulation of stains after a whitening treatment, you can make positive changes that aid in your goal. Cutting back on beverages like coffee, tea, and red wine will limit the accumulation of staining particles that change your smile's color. You should also keep in mind that consistent, effective preventive dental care can help you by clearing away harmful particles that gather on teeth.
Find Out How Your Dentist Can Help You Improve Your Appearance Through The Right Procedure
There is more to your smile than just the color of your teeth, and there is more your dentist can do than just whiten your smile. If you have other concerns with the way you look, bring it up during your next appointment, or schedule a consultation to review your options for cosmetic dental care! For many people, improvements can come from the placement of custom-made veneers. Once these veneers are created, and set in place, you can smile with more confidence knowing that you have addressed issues with discoloration, as well as minor damage, and any naturally occurring issues with tooth shape or size.
Talk To Contemporary Dental And Orthodontics About Scheduling A Teeth Whitening Treatment
At Contemporary Dental And Orthodontics, patients who want to make positive changes to their teeth can explore cosmetic treatment options. If you are someone who wants to make their smile brighter, a whitening treatment can benefit you! To learn more about this, or any other cosmetic procedure, schedule a consultation by calling Contemporary Dental in Bellaire, TX, today at 713-668-9119. In addition to Bellaire residents, we also proudly serve people residing in and around Houston.