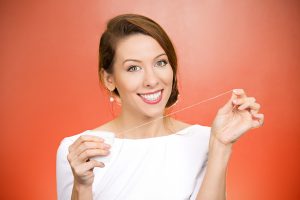 You should definitely take tooth decay seriously, and make sure you are doing enough to effectively prevent problems from affecting your teeth. One thing you should NOT do is assume that your oral health efforts are solely about protecting your teeth – you also need to care for your gums. If you want to maintain good periodontal health, flossing can be important – by performing this task, you can clear away harmful materials that gather between teeth, and on your gums. Your Bellaire, TX dentist can work with you at every dental checkup to protect your smile from troubles. Matching this in-office care with smart care at home can help you preserve your best smile!
Is Your Daily Oral Care Routine Truly Effective?
How confident should you be in your ability to maintain a healthy smile? If you make the mistake of assuming that brushing your teeth, and only brushing your teeth, can fully protect you, you can find yourself suffering from dental troubles. What you should do is take time to floss, and think about how your typical diet might affect your chances of experiencing problems with cavities.
Make Sure You Floss Properly To Enjoy The Full Benefits
A proper flossing technique is important, particularly when it comes to fighting gum disease. Your floss string should be moved vertically between your teeth, and it should move all the way down to your gum line. By doing so, you can clean every portion of your teeth, and more effectively remove harmful bacteria and food debris that might gather on your gums.
Your Dentist Can Offer Extra Help To Address A Periodontal Infection
Unfortunately, people can find themselves experiencing problems with gum disease, even when they feel they are taking proper care of their teeth. Your dentist is able to tend to your periodontal health, and reverse gum disease in its early stage. This stage, known as gingivitis, can be recognized because it can cause you to bleed more easily from your gums, and it can lead to a reddening or swelling of tissues. If your condition advances before you receive care, the problem can become more difficult to manage.
Contemporary Dental And Orthodontics Can Help You Prevent Gum Disease
At Contemporary Dental And Orthodontics, patients who need to do something about gum disease can look forward to expert care. Our Bellaire, TX practice offers a range of treatments. In addition to services that address your teeth, our practice is ready to help with issues like gum disease, as well as problems like TMJ dysfunction. If you have questions, or if you are interested in arranging an appointment, you can reach us at our office by calling Contemporary Dental in Bellaire, TX, today at 713-668-9119.