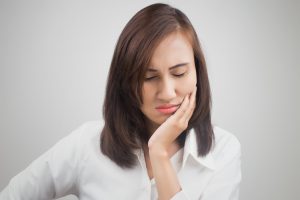 You should consider a tooth infection a real threat to your oral health, and your smile. This problem can occur when a cavity damages your tooth badly enough to expose your pulp to oral bacteria, or when you experience a physical injury. Once a tooth becomes infected, you can experience pain and sensitivity – if you ignore these warning signs, an infection can continue spreading, and your tooth may need to be extracted! Fortunately, your Bellaire, TX dentist can offer care before this is necessary. A root canal treatment is performed to carefully remove infected tissues from a tooth's pulp. By performing this work, and restoring your tooth with a crown, your dentist can protect your smile against potentially serious complications.
A Root Canal Treatment Provides Important Care When You Have An Infected Tooth
Root canal treatments can carry a negative stigma, but your real concern should be with the harm an untreated infection can cause. Oral bacteria can spread through the root of your tooth, doing irreparable damage while also exposing you to more potential health concerns. When a root canal is performed, the infection is safely removed. Your dentist can provide this treatment in a modern, comfortable environment, and keep you from experiencing any unnecessary discomfort.
What Can You Do To Limit Your Risk For Serious Tooth Problems?
Better brushing and flossing habits can stop cavities from forming, meaning you are less likely to suffer a tooth infection. Even if you are confident that you maintain great oral health care practices, regular dental visits are important. Your dentist can carefully evaluate your teeth, and recommend work when a cavity has started to form. Early treatment can make a root canal totally unnecessary, and spare more of your natural tooth structure.
Contemporary Dental And Orthodontics Can Help You By Restoring Your Infected Tooth
Contemporary Dental And Orthodontics is prepared to work with you if you experience an infected tooth. Our practice is proud to offer a wide range of services, and we are dedicated to helping families in and around Bellaire enjoy great smile care! You can schedule a consultation by calling Contemporary Dental in Bellaire, TX, today at 713-668-9119. We proudly welcome individuals who live in Bellaire, Houston, West University/Southside Place, Southwest Houston, the Galleria area, and all surrounding areas.