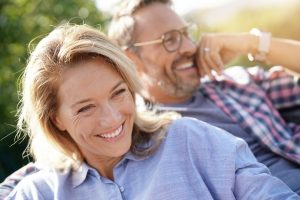 If your teeth are healthy, then your smile must be healthy…right? While this might seem to be the case, it leaves out something important – the health of your gums. If you have problems with poor periodontal health, you may notice symptoms like bleeding, swelling, or redness, as well as an embarrassing issue of persistent bad breath. What you should understand is that while the early signs of gum disease are troubling, you can experience more significant concerns when your condition progresses. Your Bellaire, TX dentist's office is ready to help you address problems with gum disease. In many cases, a periodontal cleaning, also referred to as scaling/root planing, can restore your health. If your condition is more advanced, other steps can be required.
Addressing Gum Disease Before You Start To Suffer Complications
By brushing and flossing thoroughly, and addressing your gum line, you can avoid complications with gum disease. If these problems do arise, and they are brought to your dentist's attention, you can count on support through a scaling/root planing. This procedure clears away bacteria that have gathered under your gum line. Because these areas are harder to clean than your teeth above your gum line, this can be a more involved process.
Taking Care To Address A Receding Gum Line
If your gum line is showing signs of receding, either as a consequence of advanced gum disease, or other factors, a gum grafting procedure can be beneficial. Your dentist can provide this care to improve your appearance, which can be negatively impacted by gum line recession. This can also reduce tooth sensitivity, and help you deal with ongoing problems with gum disease.
Talk To Contemporary Dental And Orthodontics About Addressing Your Gum Health
If you want to make sure your teeth and your gums are in good health, schedule a dental visit at Contemporary Dental And Orthodontics! Our practice is ready to work with you to make sure your smile stays healthy. If you are exhibiting signs of trouble due to something like gum disease, we can work with you to find the proper solution. You can schedule a consultation by calling Contemporary Dental in Bellaire, TX, today at 713-668-9119. We proudly welcome families from Bellaire, Houston, West University/Southside Place, Southwest Houston, the Galleria area, and all other surrounding areas.