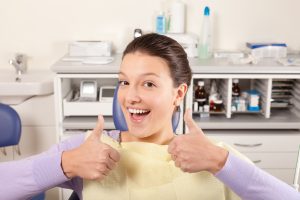 While people often associate orthodontic work exclusively with traditional metal braces, there are other appliances that can correct issues with poor dental alignment. When it comes to finding the "right" appliance for you, you can discuss the cosmetic effect of your orthodontic treatment, in addition to going over the functional benefits. For patients who want to discreetly fix problems, Invisalign and ClearCorrect aligners are discreet, and less intrusive. You can also potentially benefit from lingual braces, which are placed on the back of your teeth. Your Bellaire, TX dentist's office can discuss the benefits of each appliance with you after reviewing your needs. 
Selecting The Right Orthodontic Appliance For You
Because patients, particularly older patients, can be concerned with the impact braces might have on the way they look, the prospect of lingual braces and clear aligners can be exciting. Clear aligners can be effective for people looking to fix mild to moderate concerns, but a more significant adjustment can call for traditional braces. Lingual braces can be beneficial in this circumstance for adults who need to correct serious problems, without compromising their professional appearance.
Is There A "Right" Time To Undergo Orthodontic Work?
You might be surprised to know that there are benefits to orthodontic work at an early age. Younger kids who appear to have issues with poor dental alignment can receive early orthodontic work, to make future treatment more manageable. While it is common for people to have their teeth straightened in their tween and teen years, many people undergo corrective work as adults. It is important to note that in addition to improving the way you look, a treatment to straighten your teeth can help you avoid cavities, and improve your bite function.
Contemporary Dental And Orthodontics Can Offer Fantastic Care Through Orthodontic Treatment
At Contemporary Dental And Orthodontics, patients who need to adjust crooked teeth can enjoy dedicated support. We offer multiple approaches to orthodontic care, and we can work with you to make sure your treatment is a full success! For more information, schedule a consultation by calling Contemporary Dental in Bellaire, TX, today at 713-668-9119. In addition to serving the Bellaire community, we proudly offer treatment to those from Houston, West University/Southside Place, Southwest Houston, the Galleria area, and all other nearby areas.