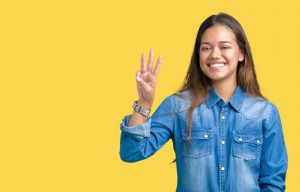 Your smile can be one of your most distinguishing features. Unfortunately, for people who have concerns about the look of their teeth, this can be a less than reassuring thought. While there are several issues that can impact your confidence in your smile, you have access to multiple dental treatments that can be helpful. Your Bellaire, TX dentist can talk to you about the flaws you want to correct, and help you identify potentially beneficial procedures. Many people have seen their appearance improve, and felt their confidence grow, after the right cosmetic dental treatment.
1. Dealing With Stubborn Teeth Stains? An Alternative To Teeth Whitening Could Be Needed
While a professional whitening treatment can help you address stains that store bought whiteners fail to touch, this is not always the ideal way to deal with discoloration. If you have persistent problems because of intrinsic discoloration, another procedure could be needed. Porcelain veneers can effectively hide blemishes, in addition to making other corrections you can appreciate.
2. Providing A Natural-Looking Restoration For Superficial Dental Damage
Not all dental damage results in health problems for a tooth. If you have a superficial chip or crack, your dentist can offer cosmetic work to hide these signs of trauma.
3. Using A Modern Approach To Orthodontic Work To Fix Problems With Your Dental Alignment
Many people who feel unhappy with their smile are looking for a solution to problems with poor dental alignment. Your dentist can carefully study the position of your teeth, and recommend an appropriate course of action. While braces can be needed for more serious alignment troubles, patients can often find that their problems are fixable with clear aligners. These appliances can avoid detection, and they can be removed by you.
Contemporary Dental And Orthodontics Can Help You Address Troubling Smile Problems
At Contemporary Dental And Orthodontics, you can enjoy quality smile care, and address frustrating cosmetic problems. Of course, we can help with more than just the way you look – our practice is also ready to help you maintain your best oral health! For more information, schedule a consultation by calling Contemporary Dental in Bellaire, TX, today at 713-668-9119. We proudly work with patients who live in Bellaire, Houston, West University/Southside Place, Southwest Houston, the Galleria area, and all other nearby communities.